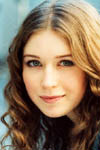 | | | |
| --- | --- | --- |
| | Upfront | |
by Felicity Monk

Wherever Hayley Westenra goes, ethereal adjectives seem to follow: angelic, innocent, pure – the words people (including singing superstars Andrea Bocelli and Russell Watson) have used to describe her and her singing. Inevitably, perhaps, Pure is the name of her latest album – the first of her three albums to be released internationally.

The record company asked her what she thought of the name. "I was like, 'That's cool, yeah,'" she says. "But I was thinking, hmmm, it does restrict me a little bit. It means I have to stay pure all my life." Cue: girlish giggling. Right now, it's very hard to imagine her being anything other than saintly. She's got the routine down pat. I wonder if this has anything to do with her mother sitting next to her on the sofa.

Westenra is friendly, demure and extremely obliging. She trips over her words in the hurry to get them out and hardly waits for the end of each question before starting up again. Like most (polite) teenagers, her dialogue is peppered with the usual exclamations: ohmigosh!, wow!, weird!, it's like, oooh. Unlike most teenagers (polite or otherwise), she can captivate the attention of thousands – most of them much older – when she opens her mouth.

Her appearance – long, tumbling curls, flawless skin and wide aqua eyes framed with goopy mascara – also fits the angel theme. Her face, dare I say, radiates when she smiles, which she does a lot. All that's missing is a pair of wings. The white jacket with the snowy fur trim is almost too much. I want to scruff her up a little. I wonder if she ever swears? I should have asked.

This young lady – despite being 17, chick just doesn't suit – is busy launching her international career. Decca Records (the largest classical label in the world; her label mates include Watson, Luciano Pavarotti and Bocelli) has made her its number-one international priority. After the New Zealand release of Pure, she's off to Australia, the UK, Asia and the US to promote it. Next month she will appear with Bryn Terfel in a concert in Wales.

Westenra has just returned from four months in London recording her album. Giles Martin produced it and his father, legendary Beatles producer Sir George Martin, worked on it, too, writing the song "The Beat of Your Heart". "That was a real honour," she says.

While there, she performed "Pokarekare Ana" at the Classical Brit Awards at the Royal Albert Hall and managed to wriggle her way into London Fashion Week, where, she says, someone from her record company mentioned to a photographer something along the lines of that "I was famous back in New Zealand, and so the photographer started snapping away. And 10 of these other photographers started snapping away. It was all a bit weird."

The awards performance, she says, has been the most exciting moment in her career. She was the first person to perform there without a British release to her name. Arriving at the awards, Westenra received a full Maori welcome and haka. "When we stepped out of the limousine, we were like, wow! I walked down the red carpet and all these people were yelling, 'Hayley look over here!' and I didn't know where to look. I was completely overwhelmed.

"After I had performed, I was whisked into this media room where I had another dose of photographers in my face, snapping away. It was weird, because in some ways they had no reason to know who I was because I haven't yet released this album. To them, I would have just been some unknown performing, so it was strange to have people yelling my name out."

Meeting Bocelli (her favourite) at the awards was "really amazing. I got a photo with him and he's so lovely. He was like, 'Oh, you have the voice of an angel.' And I was like, 'Ohmigosh, he's actually talking to me!'" She mentions a few others who were there – Terfel, José Carreras, Cecelia Bartolli – each name rolling off her tongue as though they were old friends.

Westenra possesses a modesty and sense of duty that are refreshing and sweet. In the UK, Victoria Beckham heard her perform and invited her to sing at her birthday party. Westenra declined. "It was to do with some party they were throwing," she says casually. "But I had the New Zealand Music Awards and also my own concert back here in Auckland. It was a Mother's Day concert and Sophie, my sister, was singing with me. It was, like, such a big deal and I didn't want to cancel it. I'm sure she would have been aware that I had commitments – not many people would turn down that sort of offer."


OHMIGOSHES ASIDE, her singing at Carnegie Hall with Watson and gushing over meeting Bocelli, in the same way that other teenage girls might about meeting Justin Timberlake, do set her apart. The first CD she ever bought was by Bocelli – she was 11 – whereas her classmates were into the Backstreet Boys and the Spice Girls. Which is not to say that she doesn't enjoy popular music (Craig David and Vanessa Carlton are favourites) or that she isn't popular with her peers back home in Christchurch.
But most of her friends at Burnside High are musicians, too. "It's nice having friends who are also into the same thing," she says. "They understand where I'm coming from. They're not like, 'Oooh, a cello, what's that?'" Her mother, vigorously nodding, adds, "They don't think you're a fuddy-duddy for playing an orchestral instrument or something like that."
So what does the subject/object of at least three fan sites – one of them proudly claiming "Hayley Westenra, first fan site in Japan" – think of fame? "I remember when my first album came out," she says, "I did a Google search and found a few fan sites and I was like, wow. It's really … I don't know … weird." Comparisons to Charlotte Church are frequently made and debate rages (on various websites) over who is better. (Westenra is no competition in the notorious-attitude category; the older Church wins the fallen-angel title hands down.)
"My friends definitely don't treat me differently, they just see me as Hayley. It's quite nice coming back and you can just be yourself and have a bit of normality. But there are quite a few third formers, and you hear them go [in whispered tones], 'Oh, that's Hayley Westenra.' People accept it, it's not that big of a deal. They just see it as, oh Hayley, that's just who she is, she comes and goes."
Westenra's talent was recognised early – standing on the stage at her primary school performance of The Littlest Star, she belted out a pitch-perfect tune that astounded her parents and impressed a teacher who suggested that she learn a musical instrument to encourage her talents. She took up violin, added piano and recorder and by seven could read music. By 11, she had appeared in over 40 stage productions, sung on TV shows (including McDonald's Young Entertainers) and performed in a number of concerts.
Pocket money came from busking on Christchurch streets, as did encouragement from the impressed crowds. Her sister and brother would often join her, too. Tourists frequently asked to buy copies of her album – having assumed that she had one. So she finally went into a recording studio with a bunch of songs and, using her own money, had 1000 copies pressed. She now refers to that album as a "memento".
Then came the deal with Universal Music New Zealand and a self-titled album that debuted at the top of the pop charts (where it remained for four weeks), turned triple platinum and made her the fastest-selling artist in New Zealand's history. Her Christmas album, My Gift to You, also went platinum.
When Dame Malvina Major first heard Westenra sing, she recognised natural talent and offered her lessons. "She has taught me breathing techniques and things that will help me make sure that I don't strain my voice," Westenra says. "I had a vision that she would be very proper and all that, being a dame, but she was so lovely."
Last year Westenra performed with Watson in concerts in Cardiff, Newcastle and Wembley. "I think he's got a really good voice, so it was really nice singing with him, we sort of bounced off each other." He says of Westenra (in her promotional booklet): "The first time I met her in New Zealand, I saw this tiny girl and then this voice came out and it was incredible. The only word that I can use to describe it is angelic. I think she's a phenomenon."
"Phenomenon" perhaps, but still just a 17-year-old standing there on stage in front of thousands. "When it's dark, and you can't see anyone out there, it's a lot easier," she says, "it's less nerve-racking. But once you walk out on stage, it just totally transforms you. All of a sudden, you are in control and once you have sung the first few notes, you know what you are doing. It's like …"
Wow?
Pure is released July 17.
---