New New Zealand Wonder
(12.08.03)
By Li Shen
Hailing from New Zealand, a new star is on the rise and she is only 16 year old! With the ability to sing in more than 5 different languages, Hayley Westenra, the new singing sensation proves that she is not just another pretty face in the music industry by debuting at No.1 in the New Zealand album chart, beating out Dido and other big names in the industry.
Focusing more on the classical side, she is often compared to fellow Welsh singer, Charlotte Church. Hayley commented that "it's a great compliment to be able to be ranked together with a great artist such as (Church)."
On her recent visit to Malaysia to promote her new international album, "Pure", Hayley took the breath away from the press when she belted out Pokarekare Ana, a Maori number from her new album, as she entered the conference hall. With a strong and powerful voice like hers, it's no wonder why New Zealand opera diva, Dame Malvina Major, likes her so much and took the liberty of offering Hayley vocal training.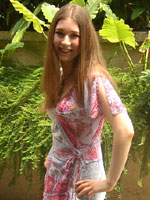 During the short press conference, Hayley handled herself with confidence as she braced herself for the Q&A session with the press.
How was it like having Dame Malvina Major as your vocal coach?
It was great. Well, actually, I was performing up in Auckland and the conductor asked if I had ever sung with Dame Malvina Major and I told him, "No I haven't". He told me he'd arrange for it and he'd call me. A couple of months later, she phoned up and offered me lessons. So yeah, it has been really great having her there - just knowing that you're in safe hands. She taught me lots of breathing techniques and how to take care of my voice just so that I won't damage it in any way. So it has been great.
How do you actually take care of your voice?
I guess for starters it's kind of important to learn how to breathe properly, and I try not to sing for more than an hour everyday. I usually do, like, half an hour everyday. And also make sure that I drink plenty of water, especially in hot countries.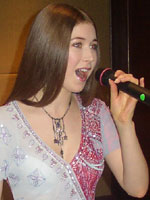 Are you still studying now or have you taken this up as a full time job?
I'm actually still studying and I'll be taking my GCSE exam next year, which means I can have a British qualification. So I have a tutor with me on the run. I think it's quite good just having something as a backup, just in case something happens.
How has your life changed since you became a recording artist?
Well, I guess I do a lot more travelling than before. (laughs) And I got a lot busier. But I do get a lot of support from my family, like my dad came here with me this time, and previously it was my mom. So it's like a juggling act but we just try to get in touch as often as we can.
Have you started planning for your next album yet?
We haven't really decided yet but I'd like to start composing my own music. So I hope that I can write something up for the next album, but for now, I'm not sure yet.
Have you written anything yet?
I have but I haven't recorded it professionally or shown it to anyone. I play the piano and the violin but the piano is where I compose all the songs.
Do you have any advice for all the young inspired singers out there?
(laughs) I guess it's really important that you should give things your best every time you perform cause you'll never know who will be there watching you.
Hayley Westenra's "Pure" is now available in record stores nationwide.
Thanks to RWHW Group for this item