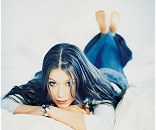 Universal Music. -
Hayley Westenra's UK Chart Record

Universal Records
Little-known in the UK, 16-year-old New Zealander, Hayley Westenra, today broke records with the fastest-selling debut album in the history of the UK classical charts (The Official UK Charts).

Pure, Hayley's debut UK release, has achieved higher first week sales than such household names as Luciano Pavarotti, Andrea Bocelli, Charlotte Church and Russell Watson. The album has gone straight in to the UK Pop Chart at No.8 and is at No.1 in the Classical Charts.

Known for the extraordinary purity of her voice, Hayley was discovered busking in Christchurch New Zealand aged 11yrs, and was snapped up by Universal Music NZ, who subsequently signed Hayley directly to Universal's London based classics label Decca Records for a 5 album 3 million pound deal. Decca are the world's biggest classical label and home to such stellar artists as Andrea Bocelli, Luciano Pavarotti and Cecilia Bartoli.


Local Audio File

Hayley Westenra takes UK by storm - 22/09/2003 06:41 PM - Universal Music New Zealand Managing Director Adam Holt talks to Newstalk ZB's Alan Jennings about Hayley Westenra's huge achievement in the UK music charts.

- MP3 -
Hayley has just performed with Jose Carreras and Bryn Terfel in Wales, and she makes her UK solo debut at the Royal Albert Hall in December. She has also been invited to appear on Michael Parkinson's show that will screen in the UK at Christmas.

Hayley herself is enjoying her remarkable journey. "This is amazing, unbelievable made all the sweeter by the fact I'm living in London and loving every minute!

Bill Holland, Divisional Director of Universal Classics & Jazz in London says "Hayley Westenra is an extraordinary young singer. In a world dominated by presentation rather than content the purity and simplicity of her artistry has created a sensation. This young lady has arrived and is here to stay".
For Universal New Zealand, Managing Director Adam Holt remarks, "This is an amazing story, but Hayley is such a unique talent her success doesn't surprise me. What is surprising is the speed in which she achieving these milestones. Pure is now multi-platinum in New Zealand, top ten and gold in Australia and now breaking records in the UK. Hayley is a genuine star and someone New Zealand can be immensely proud of."