September 25 2003 - Pure goes GOLD in the UK
Great news just in . . . Pure has just gone GOLD in the UK - Congratulations Hayley!
September 24 2003 - interview & articles in The Guardian & The Times UK newspapers
The Guardian and The Times (UK newspapers), have just published articles about Hayley
THE GUARDIAN
'I'm kind of lucky'
She has a £3m record deal and now the fastest selling debut classical album of all time. The only problem for Hayley Westenra is finding time to do her homework. Esther Addley talks to the 16-year-old singing sensation
read the full article at
http://www.guardian.co.uk/arts/features/story/0,11710,1048358,00.html

THE TIMES
She's top of the classical charts, but does Hayley Westenra's appeal lie in her ability or her innocent image
There has been no time to put the bouquet in water so it lies by the kitchen sink. The detritus of female teenager life spreads over the sofa: Heat magazine, a couple of T-shirts (worn), a Louis Vuitton handbag (fake and bought in Hong Kong). Plus a BBC guest pass and a guitar.
read the full article at
http://www.timesonline.co.uk/newspaper/0,,172-827866,00.html
** Look out for forthcoming articles in The Sunday Times and The Mail on Sunday this Sunday (28th September) **
September 23 2003 - Hayley on CNN's Music Room tomorrow
Hayley will be appearing on CNN's Music Room worldwide tomorrow (Wednesday 24th September)
September 23 2003 - Hayley on GMTV tomorrow morning
Look out for Hayley on GMTV (ITV1) tomorrow morning - Wednesday 24th September.
September 22 2003 - PRESS RELEASE
UNKNOWN 16 YEAR OLD MAKES UK CHART HISTORY
A little-known 16-year-old New Zealand girl, Hayley Westenra, today broke all records with the fastest-selling debut album in the history of the UK classical charts (The Official UK Charts)
"Pure", Hayley's debut UK release on Decca, has achieved higher first week sales than such household names as Luciano Pavarotti, Andrea Bocelli, Charlotte Church and Russell Watson. The album has gone straight in to the UK Pop Chart at No.8 and is at No.1 in the Classical Charts.
Known for the extraordinary purity of her voice, Hayley was discovered busking in Christchurch New Zealand aged 11yrs, and was snapped up by record giants Universal in New Zealand (home to acts such as Elton John, Daniel Bedingfield, Eminen and Texas) for a 5 album £3million pound deal. Her debut album went straight to No.1 in the New Zealand pop album charts ahead of Robbie Williams. Hayley is now marketed worldwide by Decca (part of Universal).
Hayley has just performed with Jose Carreras and Bryn Terfel in Wales, and she makes her UK solo debut at the Royal Albert Hall in December.
"This is amazing, unbelievable made all the sweeter by the fact I'm living in London and loving every minute!" Hayley Westenra
"Hayley Westenra is an extraordinary young singer. In a world dominated by presentation rather than content the purity and simplicity of her artistry has created a sensation. This young lady has arrived and is here to stay". Bill Holland, Divisional Director Universal Classics & Jazz
"Hayley's talent, directness and yes, purity, have already made her a star in her native New Zealand, Australia, several Asian countries and now the UK. She is the real thing". Costa Pilavachi, President, Decca
September 22 2003 - Pure at #1 !!

Pure has gone straight in at #1 in the UK classical charts - the FASTEST SELLING DEBUT ALBUM EVER in the history of the classical charts, outselling debuts by Pavarotti, Andrea Bocelli, Charlotte Church and Russell Watson. In addition, the album is sitting at #8 in the pop charts after selling 19,068 copies in the first week.
Congratulations Hayley!
September 19 2003 - Special note from Hayley!

I'm really sorry I haven't given you an update for a while, but I've been so busy lately with lots of promotion and concerts for my new album 'PURE'! At the moment I'm in London for the release of my album, which is very exciting! A couple of weeks ago I had the opportunity to perform with Bryn Terfel and Josť Carreras at the Faenol Festival in Wales which was incredible....the whole time I was up on stage with them, I was thinking "how on earth did I get up here?!". It was such an honour and an experience I will never forget!
I also performed at the Kenwood and Marble Hill 'Music on a Summer Evening' concert, which was fantastic. It was such a nice, warm atmosphere because everyone was there just to have a good time! People brought along picnic baskets, candles, tables and chairs...everything except the kitchen sink!!
As you probably know, I also had an awesome time travelling around Australia and Asia!! I can now say I've been to Sydney, Melbourne, Brisbane, Hong Kong, Singapore, Malaysia and Korea!! (plus Taiwan...which I visited last year!!)
Doing promotion in Australia was very exciting as it was the first country I'd released an album in, outside New Zealand. I had such a great time and hopefully I'll be back soon! I'm so pleased with how it's doing....it's always a bit nerveracking at first, releasing a new album, so I'm thrilled that people are enjoying it!
I also loved Asia -every aspect of it! Everyone I met was so lovely and supportive. I was actually lucky enough to visit a few markets which was cool and I bought myself and the rest of my family a few souvenirs! I also have to mention the food...mmmm delicious (especially the tofu!!). A few people might know of the well-known nightclub 'Zouk' (apparently it's one of the top 5 nightclubs in the world). Well, that's where my Singapore showcase was held....so I'll be including that in my list of prestigious venues I've performed in!!
Well, I better sign off, but I just want to say a huge thank you to everyone for all their support! I really appreciate all your messages in the guestbook (which I do try and read when I get a chance!) and I'm so glad that you are enjoying my album!!
Lots of love, Hayley xxx
September 17 2003 - Hayley to tour the UK with Aled Jones.
Hayley will be on the road in the UK in October, supporting Aled Jones at the following venues:
01/10/2003
Concert with Aled Jones, Fairfield Hall, Croydon, UK
http://www.fairfieldhalls.co.uk/

02/10/2003
Concert with Aled Jones, The Anvil, Basingstoke, UK
http://www.theanvil.org.uk/

06/10/2003
Concert with Aled Jones, Assembly Rooms, Derby, UK
http://www.assemblyrooms-derby.co.uk/assembly/

07/10/2003
Concert with Aled Jones, The Promenade, Llandudno, UK
http://www.nwtheatre.co.uk/eng/whatson.asp?eventId=318

09/10/2003
Concert with Aled Jones, Derngate, Northampton, UK
http://www.northamptontheatres.com/

10/10/2003
Concert with Aled Jones, Opera House, Blackpool, UK

13/10/2003
Eastbourne Congress Theatre, Eastbourne, UK
http://www.eastbourne-theatres.co.uk/congress.asp

15/10/2003
Concert with Aled Jones, Bridgewater Hall, Manchester, UK
http://www.bridgewater-hall.co.uk/
September 17 2003 - Des & Mel show - 24th September
Don't miss Hayley on the Des & Mel show (UK Television - ITV1) on 24th September!
September 16 2003 - Live Interviews
Hayley is busy doing interviews all across the UK now. You can hear live interviews today on:
BBC Radio Jersey (2:30pm)
BBC Radio Northeast (between 11pm - midnight)

September 10 2003 - Blue Peter Appearance (UK TV)
Hayley fans in the UK can see Hayley on BBC1's Blue Peter - 4.55 pm Monday September 15th

September 8 2003 - New Picture - Hayley at the Faenol Festival
Here is a great new picture of Hayley and opera legends Josť Carreras (tenor) and Bryn Terfel (Bartitone) at the recent Faenol Festival in Wales, UK.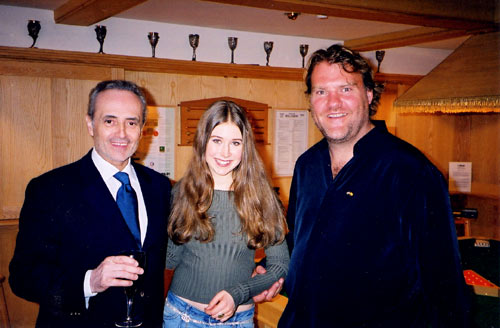 Click image to enlarge in new window
September 1 2003 - UK Radio & TV appearances
Hayley is in the UK at the moment and will shortly be apprearing on the following stations.
TV
9th September - BBC1 - Breakfast News.
RADIO
4th September, 10.30 am - BBC Northampton Radio
Also, listen out for Hayley on
BBC Three Counties with Dave Lee Travis
BBC Swindon and Wiltshire with Sandy Wilson

11th September, LBC Angela Rippon show

>> More details to follow
August 22nd 2003 - Hayley's Pure album topping the charts!
Hayley's album is #1 for 4th week in New Zealand!
It's also the # 1 pre-order CD in Amazon UK's Classical album pre order chart (release date 15th Sept). If you're a UK fan make sure you preorder now and get the CD as soon as it's out!
In Hong Kong, "Pure" is # 2 in HMVs classical chart for the 3rd week and the song "Beat of Your Heart" is #4 at Radio!