This month's Australian Weekly, New Zealand Edition has chosen 70 women whom they think are the most admired and most loved. Then they asked 12 of them their views on women in the 21st century. Hayley was one of the 12.

Hayley Westenra
Most important change in your lifetime?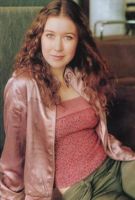 When I was 10, Mum would get me clothes at fairs.We were a lot more self-sufficient, I guess.Children are a lot more aware of their image now, thanks to TV and Magazines. I was just watching a documentary on anorexia, which had kids as young as six who were conscious of what they're eating. It's quite terrible.
When I was younger we had a big box with bits and pieces and we'd make things. Now kids rely more on technology and Gamesboys and TV.
Personal Role Models?
For a start, Dame Kiri. Apart from her voice, the fact she's from New Zealand, and has had international success is inspirational because it shows that even coming from a small country like New Zealand you can make it overseas. Also, my singing teacher, Dame Malvina Major, who has taught me so much.
Hope for the future?
The most important thing is for the governments of some of the war-torn countries to change their attitudes towards their people and give them all the necessities and things they need to improve their quality of life. It does come down to governments.
Copyright © 2003. Australian Weekly, New Zealand Edition.
Thanks to Belinda and Gareth - RWHW Group - For this news item.