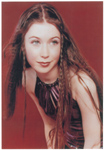 Faenol Festival 2003, Opera Night Review.
When I first heard that Hayley would be appearing at the Faenol Festival in North Wales, I knew I just had to have a ticket. So, in those distant, cold and damp days of February, I made the necessary arrangements and managed to get a front row seat. The ticket was for the Opera Gala, Sunday 24th August 2003. The seat was row A no. 57.
SIX MONTHS to wait. Seemed like a lifetime. But, it soon went by and, before I knew it, it was only a week away and so much to do. Suddenly it was Saturday night and the anticipation made it difficult to sleep. The following morning, I rose early to give myself plenty of time. From where I would enter Wales, there is a new road, laughingly referred to as an expressway. However, just two miles into Wales, it is a regular feature to hit severe traffic problems. On one occasion, it took me two hours to cover just four miles. The only thing the road was in need of was parking meters.
The concert was due to start at 8pm. I left home for the 75-mile drive at 1:40pm because of the potential for congestion. It is a bad road for traffic on a holiday weekend anyway. And with much of our rail network closed for engineering works, they were expecting traffic up by 30 percent. I decided to take action to use an alternative route around the congested area. There is a new bridge, which takes you onto the bottom coastal road. Unfortunately, it goes through a great many small coastal towns. Anyway, I took the bridge and re-joined the expressway eight miles further on.
As it happens, traffic was quite light and I was able to average just over sixty miles an hour. I made the journey in just under an hour and a half and was there at 3:15. The gates didn't open until 5pm. With so much time to go before the gates opened, I decided to study the crowd. The queue was about forty to fifty people wide and some 100 metres from the front to my place in it. When there was still an hour to go, I looked toward the back of the queue and discovered that it was nearing five times longer behind than it was in front. This was going to be a big audience. I heard many people talking about this young girl from New Zealand. I wasted no time in telling them about her. Some had newspapers - well, one particular newspaper, which carried a full-page piece about Hayley. Trouble is, it was published last Friday AND I MISSED IT (but not for long).
So, once in the grounds, there were still 3 hours to wait. Three hours in which I did nothing but scan the crowd looking for Hayley or her father. I knew that I certainly did not want to try and introduce myself during the concert or it's interval. That would be most discourteous and could break concentration. Oh. I tell a lie. I located my seat and was relieved to see that, had I been hard of hearing, I would have no difficulty enjoying the music. My seat was directly in front of, and only about ten feet away from, a bank of EIGHTEEN amplifiers. If I wasn't hard of hearing before I thought, there's a good chance I could be after. There were no other amplifier positions around the field, only those on either side of the stage. So, the volume was going to be fairly high so that those at the back could hear it. I was right. It was pretty loud.
There were three warm up acts who were all great. This showed a very high standard was built in right from the very start.
Then the concert started and Bryn Terfel entered to a fantastic round of applause. Nothing less would have been expected, after all he is a world class singer. Plus, he is a "local boy" and very popular. He sang the Toreador Song from Carmen. Then Jose Carreras entered - another huge name - and received just as much applause as Bryn. He sang two pieces, which were both very well received. Then it was Bryn and then Jose again.
Then came the moment I had waited so long for. Hayley came on and the crowd rose to their feet, cheering and applauding like mad. What a moment! I was in awe at the response from some 10500 people who were present. Bryn Terfel didn't get a standing ovation when he walked on stage. Jose Carreras had a few people stand for his entry, but not that many. But for Hayley, the entire audience rose to their feet. To say I was delighted at this response for her would be an understatement. Clearly, many in the audience loved her on sight. She wore a close fitting pink dress covered with little sparkly, multi-coloured butterflies. Then she spoke and greeted the crowd in Welsh. This brought a cheer and more applause. Even more people now loved her. She switched to English, telling the audience that she loved Wales, it made her feel homesick.
Then, it was time for her to sing. She began with Andrew Lloyd Webber's Pie Jesu. That was virtually it. Anyone who didn't love her by now, certainly would after that, I thought. It was the most beautiful performance and, experiencing it live is far superior to even the best quality recording. I was thoroughly entranced and I wasn't the only one - and I don't mean the rest of the audience. The concert was being recorded for TV and one of the crew (the boom camera was also directly in front of me) was mesmerised. It took a call over his headset from the control room to break the trance and get him back to work. I know, because I heard his response. In a matter of what seemed like only a few moments she had finished singing her first song, for which she received a standing ovation. As she left the stage, she half raised her arm and gave a typical young girl wave to the crowd. This brought gasps of "Oh, God, isn't she lovely." What more can I say. She had ten thousand five hundred people eating out of the palm of her hand.
Additional microphones were put in place and Hayley came back on stage, along with Bryn and Jose to sing Schubert's "Ave Maria". Another standing ovation followed. I was clapping so hard it was hurting my hands but I didn't care.
Bryn opened the second half with a magnificent rendition of En Aranjuez con tu amor.
Hayley then came back on stage, she had changed her dress for a cream coloured one with one of those angled hems that starts at the knee on one side and goes down to the ankle on the other (you can tell I'm no fashion expert). It was covered in a glittering design. This brought gasps of appreciation from the crowd and many hushed statements of "isn't she beautiful". Now, she sang "In Trutina". Which is, of course, from her new album "PURE". With such a beautiful rendition of this delightful piece, she was accompanied by the awed silence of the audience as they drank in every note. Once more, Hayley was greeted by the kind of applause that only comes from the best a great artist can give. And yet it all seemed so effortless.
So, Hayley had sung in Latin, now it was time to switch to Maori and "Hine e Hine". Before she began, she told the audience what the song was about. People hung on her every word, listening to this beautiful speaking voice with that subtle New Zealand accent. People loved to listen even when she WASN'T singing. It was obviously the first time that most of the audience had heard it - and they loved it. If anything, the applause from the audience was getting longer and louder with each song that Hayley delivered. Hayley left the stage again and gave that little wave as she went. It had no less impact than the first time. This was one audience that I witnessed being won over in their entirety by Hayley's uncomplicated and genuine adorable character.
A second microphone was positioned and Hayley returned to the stage with Bryn and they sang "Pokarekare Ana" as a duet. It was immediately obvious that Bryn's bass-baritone and Hayley's soprano were a perfect complement each of the other. The sheer beauty of this song was not lost on the audience. But, it was fighting a losing battle against the perfection of Hayley's voice. Suddenly, it was over and Hayley's part in the concert was complete. The remaining eight pieces sort of drifted over me without really registering very much. I was still wallowing in the beauty of Hayley's performance.
Then the concert was over and they came back on stage to take their final bows. By far the greatest reception was for Hayley, who took another standing ovation. I lost count, was that the fourth? No, it could have been the fifth. Or was it six? Anyway, they left the stage again, to be followed by the roar of the crowd who were not prepared to let it go there. So, it was time for the encores. First Bryn, then Jose. Then it was Hayley's turn again and the crowd cheered as she returned to the stage. For her encore, she sang "Amazing Grace". The performance was impeccable and, at the end of the song, she showed quite clearly that those incredible high notes are still well within her ability. The audience were loving Hayley more and more with every moment. But, she had one more ace up her sleeve (the fact that there weren't any sleeves in her gown is not the point).
Bryn and Jose returned to the stage for a duet which was received with no less enthusiasm than they had received earlier. When they left the stage, the audience started again chanting for more, cheering, whistling and banging their hands on their chairs. Doesn't do much if you stamp you feet on grass.
Bryn, Jose and Hayley returned to the stage one more time. This time, Jose didn't sing. It was left to Bryn to start the Welsh National Anthem, which is a very stirring tune. He then signalled for Hayley to join in. Which she did, in Welsh (obviously) and that was the coup de gras. With performances like that, Hayley's popularity is a foregone conclusion. There wasn't a person left in the grounds who didn't love her.
After the concert, I managed to attract the attention of Gerald, her dad. I introduced myself and we had a chat for a minute. Then I said that, had I seen him earlier, I would have asked if Hayley would sign my CD inserts if she had the time. He asked me for them and told me he would get her to do it straight away, just wait there a minute. Next thing I saw was him looking at me through the security barrier. He beckoned me forward and cleared it with security for me to go through. Standing the other side was Hayley. I blurted out one word in both awe and surprise - "Hayley". She had come out of a reception where there were over a hundred people waiting for her, just to meet me. She had signed my CD inserts and was just such a magical and lovely person to speak to. I was so honoured and said so. I got told that the honour was all hers. This I will never believe. The honour was definitely mine, and I'll fight anyone who says different.
I had driven thirty miles back from the venue before the realisation actually hit me. I was just so excited and couldn't believe it. AND I EVEN GOT TO TOUCH HER HAND (he says like an over-excited child).
Last night's experience has made me even more of a dedicated fan. I am now totally loyal to this most beautiful person and her fantastic and friendly father. In fact, her whole family has my undying loyalty.
Thank you Hayley for the most wonderful night out I have ever had.
Keith.