Kelly Osbourne draws to fight big C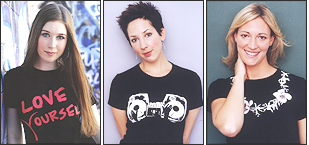 Hayley Westenra wears Kelly Osbourne's design, Jacquie Brown in P-Money's design and Anna Rowberry wears one by Kate Sylvester.
NZ TIME: 24.01.2004 By RENEE KIRIONA
American punk-pop star Kelly Osbourne has joined a New Zealand campaign to raise funds for breast cancer research.
The daughter of metal legend Ozzy Osbourne accepted an approach by the Breast Cancer Research Trust to be part of the initiative in which celebrities design T-shirts for retail fundraising.
Osbourne said the Glassons Breast Cancer Research Trust T-Shirt campaign was important to her because her mother Sharon had suffered a form of cancer.
"I wanted to be part of this campaign because I thought it was a great way to bring awareness to breast cancer," she said. "If I can help even one person through this it would make all the difference to me."
Other celebrities to design a T-shirt this year are fashion designer Kate Sylvester, hip hop artist P-Money and television personalities Stacey Daniels and Petra Bagust.
Osbourne became an instant celebrity in 2002 when she, and her family starred in the hit reality series The Osbournes. Since then she has, like her father, pursued a career in music.
Singing sensation Hayley Westenra said she was excited about being asked to model Osbourne's T-shirt. "I really liked Kelly's design. I think it's important for young women everywhere to love themselves for who they are."
The T-shirts go on sale on Tuesday at Glassons, at $29.95 each, $10 of which goes towards research into the disease.
A spokeswoman for the trust, Sarah Paykel, said while a similar campaign ran last year, in which $310,000 was raised, Osbourne was the first international celebrity to take part. It is hoped $500,000 will be raised this year.
New Zealand has one of the world's highest rates of breast cancer. It affects one in 12 women and claims more than 700 lives every year.
Updated : August 6, 2004 0:55
Article link thanks to Steve MacDonald. Not for reproduction