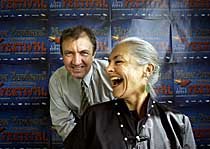 TIME TO WIND DOWN: Arts festival organisers David Inns and Carla van Zon are extremely happy with how the festival went, despite the competition from other events.
ROB KITCHIN/Dominion Post
By ROBYN MCLEAN
Competition from other concerts and events could have cost this year's NZ International Arts Festival nearly $6 million in lost ticket sales, festival chief executive David Inns says.
Pitching itself against big names such as David Bowie, Billy Connolly, Hayley Westenra and The Pretenders, this year's event started off on the back foot with the musicians eating into the festival's potential audience.
Other events such as the Cuba St Carnival and the dragonboat racing would have had an impact, also taking media attention away from the festival. Unseasonably bad weather had not helped matters either.
Despite the obstacles the festival, which officially ends tomorrow, has been dubbed a success by organisers.
Ticket sales figures and income generated from the festival would not be available for a few weeks, but Mr Inns said he was feeling "pretty comfortable" about what they would reveal.
"But we've certainly achieved the numbers in terms of bums on seats," he said.
While many shows such as the Spanish National Ballet Company sold out after the festival started, presales for this year's shows were lower than normal, Mr Inns said.
"We used to have quite a big presale factor. Whether that was down because of the competition or whether people want to see what the reviews say first, I'm not sure . . . There was a change in buying patterns."
The opera The Elixir of Love was considered by many to be a risky choice, something that was reflected in subsequently disappointing ticket sales and possibly making it the biggest financial risk of the festival.
"Everyone that went to it loved it, but the problem was getting people to go to it," Mr Inns said.
Creative director Carla van Zon admitted the traditional opera audience had been disappointed by this year's choice.
"I think that it was quality, but it was just a different style. We probably haven't pleased our traditional audience, but we have brought in some new people.
"Opera is the most expensive outfit to produce. We can't say with any certainty how we can continue it. We always hope that we will have opera, but in fact more people go to the national ballet today."
Mr Inns said theatre had been particularly successful this year and shows such as New Zealand play The Songmaker's Chair and French show The Junebug Symphony had drawn bigger audience numbers than expected.
While there were some grumbles about expensive ticket prices, Ms van Zon said things such as the international ballet and opera shows were actually cheaper than the last festival, despite production costs rising.
However, Ms van Zon said that despite the obstacles she was delighted by how the festival had gone after two years of planning.
She said she wanted the festival to be accessible to a wide range of people, and therefore always needed to find a varied programme lineup.
---

News Menu 2004/1

Home Page