Classical music's contemporary crossover
by Emma Saunders
BBC News Online entertainment staff

Westenra is currently touring the United States
Contemporary artists and compilations albums have boosted classical music sales, changing the face of the classical charts. BBC News Online looks at how the classical genre has evolved.
Scan the chart-topping classical albums of recent years and you are unlikely to spot many orchestral recordings of core classical works.
Instead, the chart is flooded with contemporary stars like Charlotte Church, Hayley Westenra and Bryn Terfel.
Sandwiched between them you will usually find several compilation albums inviting you to 'relax' or 'chill out' to a series of popular classical melodies.
Crossover music
"There has been a definite trend towards classical crossover music in the last few years," says Matt Phillips, a spokesman for the British Phonographic Industry.
But is it the quality of the music or the powerful thrust of modern marketing that accounts for the genre's burgeoning success since the 1990s?
Alex Cowan, product manager for Sony Classical, whose artists include Charlotte Church and Vanessa Mae, believes the fortunes of such artists is "generally well deserved".
But he admits that good PR has played an important role.
Like many recent media success stories, he claims it is the accessibility of the artist that sells.
Lifestyle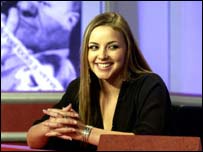 Charlotte Church is experimenting with new musical styles
"It's buying into a lifestyle, it's a desirable product," says Mr Cowan. "What we're always trying to do is reach these people that wouldn't buy a classical album otherwise."
Peter Jamieson, chairman of the British Phonographic Industry, agrees. "In 2003 the classical record industry bounced back with a whole range of exciting artists and innovative compilations which brought classical music to new audiences."
Indeed, between 2002 and 2003, turnover increased by £5m to £65m.
Nor has the sales success been limited to major labels promoting crossover artists. Independent label Chandos Records, whose latest releases include Yoshimatsu's cello concerto, has also enjoyed a growth in sales.
"A lot of people in the recording industry are crossover stars now and we're not in a financial position to do the kind of PR that goes with it, " said a spokeswoman for Chandos.
"It's like a chicken and egg situation - if you get the artist you have to spend the money and if you don't spend the money, you don't get the artist."
Core market
Nonetheless, Chandos feels it is not losing out to the major record companies because the crossover and core markets are separate.
"Crossover doesn't affect our sales. We're not in the same market - people know what we do and they buy it, if that's what they want," she says.

Opera star Terfel is nominated for two classical Brits
Roger Lewis, managing director and programme controller of radio station Classic FM, believes classical music is increasingly enjoyed by a broad spectrum of music-lovers.
"Classic FM has a very mixed audience from connoisseurs to people who have only recently discovered classical music - we are passionate about engaging our audience and inviting them to join us on a voyage of discovery," he says.
And while he is pleased the crossover trend is bringing classical music to a new audience, he is keen to point out that the traditional genre is vital.
New audience
"Compilation albums are an entry point for a new audience into classical music and have been instrumental in helping people engage in the genre," adds Mr Lewis.
"But record sales are only one of a number of barometers you can use to measure activity within classical music.
"I think the trend is returning to core artists - reflected by some of those nominated for the Classical Brits - BrynTerfel, Sir Simon Rattle, Cecilia Bartoli and Phillip Glass."
Perhaps his inclusion of Terfel - a Welsh bass-baritone, whose latest album went platinum - demonstrates that one person's classical performer is another's modern crossover artist.
Whatever your opinion, the future of classical music looks bright.
Source: BBC News
Info thanks to Roger Mansbridge