Hayley Westernra:
Gentle Revolutionary
by Lynn B.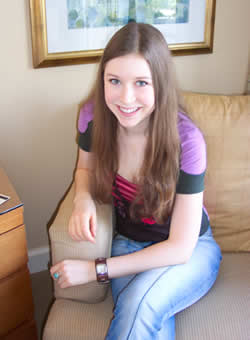 17-year-old New Zealand songbird Hayley Westernra has started a mini-revolution. The girl with perfect pitch has gotten teens and young adults to enjoy listening to classical music. Her album "Pure" went past two million in sales in the U.K. and one million is Asia, Australia/New Zealand. The interesting thing is that the cd debuted #1 on the Brit classical charts but also appeared on U.K. Pop charts at #8 right there with Sting, Dido, Kylie Minogue and Britney. It remained in the Top 10 for eight weeks. Her music has a lot of crossover potential. At one point, versatile Hayley also danced ballet in a national company!
The beautiful, blue-eyed, soft-spoken teen has performed for the Queen, George Bush and other heads of state but started out singing in school groups and, for extra money, sang with pals on the streets of her native Christchurch, New Zealand. Hayley is super busy with t.v. and concert appearances, a Disney radio tour and work as the youngest ever Ambassador to UNICEF.
We sat down with her for a chat in her hotel room while she was visiting Los Angeles with her dad Gerald who helps her out while she's away from home. She was in the states for radio shows and singing the national anthem at a NASCAR event. Hayley looked very chic in jeans, a multi-colored Dolce and Gabanna top, black slides with leather flower bows and a big turquoise ring.
With dad ironing (yes ironing) something in the background, Hayley and I chatted about her album, musical plans, love for native Maori songs, what she's looking for in a boyfriend, her fave movie hottie, what it's like turning 17 and other gurltalk. Check it out:
AGW: You just had a birthday last month. Did you have the chance to do anything fun?
Hayley: Gosh. I enjoy just sleeping in. I went to the gym, which is like a novelty for me, I just feel so much better. Then we went for a walk around New York and we went out to this really nice restaurant called Zen Palace.
AGW: So where is home now? Are you still in London?
Hayley: Home is Christchurch, which is back in New Zealand. I am going back to the UK, after being here in America, for a month to study for my (college entrance) exams. Then I come back to America then, in about another month to New Zealand to shoot a PBS special. Great Performances on PBS. Then I come back again to America and basically spend the rest of the year here.
AGW: Whew! So you haven't really had a chance to see any of the Hollywood sites yet?
Hayley: Not really, no.
TeenMusic; What is the best thing about being seventeen and what is the worst thing?
Hayley: The best thing about being seventeen is you are one step closer to being eighteen. Being seventeen you don't have the responsibilities of being eighteen as well, which is kind of a benefit.
AGW: Are you driving yet? And if you are what are you driving?
Hayley: No I am not driving. I really desperately want to get my driver's license, but I haven't had the chance to have some lessons. It has been hard enough fitting in school lessons.
AGW: Do you have a tutor now?
Hayley: Yeah. I do. I was going to regular school but now I am only home for a few days at a time. It is really hard. Now I've got a tutor that is based in London and I am actually kind of studying by e-mail, I guess, for my exams in October. That is why they scheduled about three weeks of just complete studying.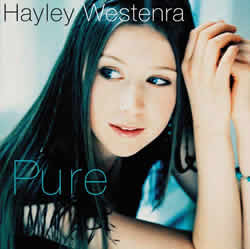 AGW: You have two native Maori songs on your CD "Pure". That culture is a big part of New Zealand. Were you familiar with the language and culture?
Hayley: Oh yeah. I was basically back in New Zealand surrounded by Maori culture. When we go school we learn Maori songs, we learn the myths and legends of the Maori culture. So we are kind of surrounded by it, also my great, great grandfather was Maori. I do have it in my blood. I think just growing up in New Zealand did make me feel like part of that culture, even if you are not Maori. So it does seem right to include a couple of Maori songs and they are gorgeous songs anyway.
AGW: So did you see the movie Whale Rider?
Hayley: Yeah I have. I was supposed to meet Keisha (Castle-Hughes, the movie's star) . We were going to be on the same t.v. show but it didn't happen. She did so well in the film. It was the first things I wanted to do when I got home. Apart from seeing my friends, this was the movie I want to watch.
AGW: So what is your favorite film in the world so far?
Hayley: I love Notting Hill. It is such a sweet clichéd movie.
AGW: What celebrities have impressed you the most so far? And why?
Hayley: Celine Dion. She has impressed me not only because she has an amazing voice but because she is so driven and dedicated to her art. I think that sort of inspires me and impresses me. She is someone I look up to. Jose Carreras, one of the three tenors, he impressed me. He gets so many accolades and yet he is so down to earth and so nice.
AGW: Of course you have been compared to singer Charlotte Church. You guys even look a bit alike. Her personal life has been all over the tabloids and I think her career has suffered for it. So are you being really careful to keep your private life private?
Hayley: Yeah. I guess not because of that. But it does make you more aware of just how easy it is to get caught up in all that. I am aware that I do want to keep my private life private; at the same time I've really got nothing to hide. I am not like 'I can't say this, I can't talk about that'. I am pretty open about things really.
AGW: Would you say that your family keeps you grounded?
Hayley: They do. I got my Dad to keep me grounded. My brother and sister keep me in line.
AGW: When you are home do you have to do chores?
Hayley: Oh yeah. The big thing is 'you've got to tidy your room Hayley', and I help around the house. It is pretty normal.
AGW: Do you dance Ballet still?
Hayley: No, I don't unfortunately. It is one of those things that you can't just fit in. You have to make a few sacrifices. It is not the end of the world; I can always go back to that later. Obviously I am not going to be a great ballet dancer. But, when I stopped, it was like oh my gosh, I feel so unfit.
AGW: Did you learn guitar so you could tinker on writing your own songs?
Hayley: I started the guitar because I thought it is more portable than a piano. It is a great instrument to write on and compose on. I think that piano is still my main instrument for writing but I figured it was nice to have a challenge. I'm coming up with lyrics and ideas for songs.
AGW: What would you and your friends like to do on a typical Saturday night out?
Hayley: Well I think the best times with friends is when we are over at some one else's house. We just sort of watch movies and raid the kitchen. Like a sleepover. I love those, and do all sorts of crazy things.
AGW: Do you have any aspirations to try acting someday?
Hayley: Yeah, I do. I would like to try it. When I was younger I did lots of acting. I mean it would be quite fun to pick it up again and just have it on the sideline.
AGW: Well, Hollywood is back to making some musicals.
Hayley: That is actually what I enjoy, the combination of singing and acting and dancing.
AGW: What about Broadway, what if there was a neat musical? Would you be interested in doing that?
Hayley: Actually possibly. At the moment I really enjoy what I am doing, just recording and performing. I guess, down the line, I wouldn't mind branching into it or at least trying it out really.
AGW: What is more satisfying for you? Singing in front of a huge auditorium of thousands of people, or even royalty, singing on T.V. or singing in front of friends and family?
Hayley: I think performing in front of a big crowd of people is the most enjoyable. You just get the whole vibe from the audience, the atmosphere. I think performing in front of friends and family is pretty nerve wracking. Performing in front of your peers is the hardest thing. I mean performing at my school assembly was even more nerve wracking then performing in front of the Queen!
AGW: Can you compare U.S. audiences with U.K or New Zealand audiences? Because we are a rowdy bunch.
Hayley: I think, going around to the schools for example, that U.S. kids and audiences in general are so enthusiastic. Just U.S. people in general, what I like about Americans is that they are so enthusiastic and they are like so supportive, really. I talk to them and they are so excited for me. I think the U.K. and the Kiwis are a little more reserved. Even though I am a Kiwi, you guys still support me. It is really nice.
AGW: People are saying you are responsible for bringing back classical music as far as popularity. Do you feel like that is a lot of responsibility?
Hayley: I don't really think about that aspect of it. I am just excited about the fact that people are enjoying my music. A lot of people say 'I really don't listen to this sort of music but hey, it is really cool'. Also children listening to pop music might pick up my CD, be inspired by it and think 'I could do this' and 'this is kind of cool'.
AGW: Would you like to be more of a crossover artist going into pop? Are you happy with where you are with your singing or would you want to change your style?
Hayley: I am happy. I do still want to continue exploring different styles and some of the poppy styles and some of the more classical styles. Generally I am pretty happy having my foot in both doors.
AGW: What qualities would you look for in a boyfriend? (at this point I glance over at her dad who is still ironing but with a smile on his face).
Hayley: First of all, someone who is sensitive but also someone who can make me laugh. Someone who is quick and witty always helps. I guess just someone who is just sensitive and aware of others. Loyal is good too, and good looking. People like to think it is the inside that matters but you do have to find them attractive.
AGW: So your grandparents all sang in some way or another, right?
Hayley: Yeah, my nanna was a great singer and my Granddad could play almost any instrument by ear. So they would go around and entertain at hotels and pubs.
AGW: With all this musical background what was played when you were growing up? What was around the house?
Hayley: My mom was really into alternative music like. I think she liked Sheryl Crow and Melissa Etheridge. There is a singer Heather Nova that she really liked. She is like a Bermudan artist. They also put on classical music to try and get me to sleep. So I did hear some classical music. I think it was when I started to learn the violin and the piano and also when I went to ballet as well, they played classical music.
AGW: Did you actually sing on the streets at home for tips?
Hayley: Yeah. I was involved in this group that was called the Canterbury Opera Youth, which was like a children's opera chorus. So there was a group of us kids putting on a show. I think it came to lunchtime and some of us didn't have any money to buy our lunch. Then we were like, 'hang on a minute', we saw all these other buskers down the street. We were like, 'why don't we just sing and see if anyone gives us some money'. So a group of us just started singing and one of us put out a hat and we got this big crowd of people that were cheering us on and we were like 'wow!'. My sister Sophie came and sang some songs. And she joined in and it was great. I guess the bonus was we got a bit of pocket money while we are at it.
AGW: Were you surprised when your first album of show tunes and Classical songs went to the top of the pop charts in New Zealand? What was on it?
Hayley: Oh yes. It was "Memory" from "Cats", "Wishing You Were Somehow Here" from the "Phantom of the Opera" and "All I Ask of You". At the start it was like, 'hang on this is just little old me. Why are people so interested in it'. It is really strange because I listened to it back home and it is not all that special. But, I did a New Zealand tour and I had my own show.
AGW: What would your favourite subject in school be? What do you enjoy the most?
Hayley: I love languages. Italian, French and German. When I was learning them, I was like, 'this is going to be useful for travelling and singing as well'. A lot of Operas are in Italian and other foreign languages. It is kind of exciting really.
AGW: Do you know them well enough to converse or just well enough to know song lyrics?
Hayley: Well, to be honest I need to keep up with it more. We were in France and I had basically done like a year of French. It was quite funny because the lamp in the room wasn't working so I rang up and I was thinking this is my chance to practice my French. So I said 'the lamp is broken' and what I didn't realize is that I actually said 'the lamp is shattered'. So they sent a lady with a vacuum cleaner to clean up the mess! So I got such a hard time from my family when everyone heard the story.
AGW: Do you have a favorite song on "Pure"?
Hayley: "Wuthering Heights", I love that one. It's challenging. At the same time I just love it because it is a unique song. There is nothing like it. I guess also because I am studying the book "Wuthering Heights" for my exam, so I know everything behind the song and the whole story. That helps when you are singing it because you can really get into it.
AGW: What is the most touching or weirdest fan encounter you have had so far?
Hayley: There was this lady over in the U.K. and I just met her and all of a sudden she just started crying and I couldn't get her off my shoulder. And in some ways it was a little weird at first but it was quite touching. Apparently she had been completely moved by my music.
AGW: What is the best advice you have ever been given and who gave it to you?
Hayley: There is this lady Dame Malvina Major. She is this famous New Zealand Opera singer and she gave me this advice. She basically said, 'take everyone's advice but in the end you make the decision'. I guess in some ways it is common sense but it is kind of nice to be reminded of that. And I think that is the most important thing really in this business. There are so many people bombarding you with advice and it can be quite overwhelming sometimes. I think in the end you have got to just follow your heart and that is kind of what she was saying.
AGW: What is in your CD player or your ipod right now?
Hayley: I've got this compilation right now, it is Alicia Keys, which is my favourite song "If I Ain't Got You". I love that one. Joni Mitchell with (sounds Like) "The Case of You", I love that song. I've got i-tunes on my computer. I love Jeff Buckley with "Hallelujah" and then I've got Christina Aguilera with "Beautiful". It is just a list of my favourite songs.
AGW: Who are you dying to do a duet with that you haven't gotten to yet?
Hayley: Andrea Bocelli. I would love to do a duet with him. I met him at the classical Brit awards last year. He was really sweet.
AGW: Who is your favorite actor or actress?
Hayley: Orlando Bloom. (I tell Hayley that I've interviewed him and we gush and she says she's jealous). I also like Brittany Murphy. I think she is funny and she is just so vivacious, so full of energy.
AGW: When you get to eat junk food what would you like to eat?
Hayley: I love chocolate. This sounds a bit weird, but because I try to avoid dairy products, which is chocolate. I have to go for dark chocolate, organic dark chocolate. I avoid dairy for my voice but there is this chocolate tofu dessert at this place called Real Food Daily here in L.A. It is the most delicious thing you will ever try. It is like a vegan restaurant.
AGW: Besides singing what do you think you do pretty well and what do you think you do pretty badly?
Hayley: I can play the piano quite well and dance. Badly? The first thing that jumps to mind is the high jump. Like the scissors. Oh my gosh, I was traumatized. I have always been the shortest in my class. I just remember running up to it and going, 'how on earth can I jump over that?' Bu, I think I'm good at cross-country running. I have good stamina. Probably the lungs from singing.
AGW: What would you like to say to young fans that have hardly listened to any classical music?
Hayley: I guess I would say you don't have to give up on pop music. I think it is just nice to listen to it. You should at least try and listen to it because you may discover that you really like it. There are times when you don't want to play loud blaring pop music, when you go to sleep it would be quite nice to have something to chill out. If you are studying for exams. I find it helps if you put on light classical music or even Celtic sounding music. Just have a listen to it and kind of be open minded about it.
AGW: What would you like your fans or potential fans to know about you?
Hayley: I guess just the fact that I like all different types of music and I am not a classical snob or an elitist or anything. I am not a purest; I appreciate all different types of music. I am not only a classical singer or certainly not an opera singer, as a lot of people call me.
Hayley's Web Site: www.hayleywesternra.com
Pictures by Lynn Barker

VIEW SOURCE - Link thanks to Steve MacDonald
---
Copyright © 2004 A Girl's World Productions, Inc. All Rights Reserved
Not for re-publication without prior permission


News Menu 2004/2

Home Page