Oh! What A Night
I spent some time thinking about what I would write as a review of this evening, there is just so much to say. But, I decided that, in deference to those who do not wish to be cured of insomnia, I would keep it as short as possible.
Remembering the fun I had when I travelled down to the Royal Albert Hall a mere 24 days earlier, I decided to err on the side of prudence and allow myself plenty of time in case of delays. I set out at 12 noon, allowing 6.5 hours to make the 4-hour trip. And, guess what. There were no hold-ups at all. I averaged just under 60mph all the way and arrived at Hampton Court Palace at 4PM - a full 3.5 hours before the Finale was to begin. Wouldn't you just know it!
Although I had seen many pictures of the Palace over the years, to actually stand in the grounds and look at the great West Gate, you are immediately over-awed by it's sheer magnificence. What a venue!
Enlargement available
It is quite clear to see why Henry VIII liked the place so much. And, it is no wonder it was at the centre of Royal life for 200 years. Below we have a reproduction of a painting by Leonard Knyffe, which shows the Palace and gardens as it was for William III.

No Enlargement
So, this was the place where it was all going to happen. I could think of no more fitting a venue for Hayley. And I was in good company. Roger had arrived, and we had the opportunity to chat for a while (well, quite a while, actually). Before Roger arrived, I had had a good chat with Steve Abbott, Hayley's manager, who decided to play a trick on me. I was standing outside the west gate when a voice came from behind "would you care for some refreshments, sir?" Turning, there was Steve holding a tray of sliced fruits. We chatted for a few minutes and then he had to go - the fruit was for Hayley. As he left, Gerald walked over to me and, again, we had a good chat for several minutes. That is, after he had greeted me with a big smile and firm handshake. After Roger had arrived, we were to see them two or three times more. Chatting for a short while each time. They really are both fantastic people. The very best.
As with buses which always arrive late, these events seem to be a few minutes late starting every time. It gives that extra few minutes in a venue like this to look around and drink in the wonderful atmosphere. Then it began. The Royal Philharmonic Orchestra, under the baton of Owain Arwel Hughes, played the Overture from "Die Meistersinger" by Wagner. A delightful piece ideally suited to begin to build the mood of the audience. This was followed by "The Walk to the Paradise Garden", from "A Village Romeo and Juliet" by Delius. Another step up, as this is a beautiful, melodic piece.
Then the big moment arrived! It was Hayley's turn to serenade the audience, who were now in a highly receptive mood. She came on stage to a hearty round of applause, and was wearing her beautiful pink gown with the butterflies on it. In a setting like this, it became more noticeable how effortlessly she moves, and how she commands attention as she enters. Sounds somewhat like royalty in itself. She opened with "Pokarekare Ana".

Enlargement available if required
And, yet again, I found new pleasure in listening to Hayley performing this song live. Clearly, so did the audience, for they loved it - and Hayley. There was very warm, appreciative applause to follow this piece. Hayley took her bow and left the stage.
Now, we were treated to a wonderful rendition of "Zadok the Priest" by Handel. Things were warming up steadily as the music we were treated to became more stirring as time passed. The orchestra then gave us "Enigma Variations: Nimrod" by Elgar.
Now it was back to Hayley. Her next song was "In Trutina" from "Carmina Burana" by Carl Orff.

Enlargement available if required

With such effortless ability, just what we have come to expect from Hayley, she showed that she is very able to handle a more operatic style as she delivered this to absolute perfection. Once again, the audience rose to the occasion by showing their unreserved appreciation for such an excellent performance.
The orchestra and chorus racked up the standard of the proceedings yet again with an emotionally stirring rendition of the "Hallelujah Chorus" from "Messiah" by Handel. The mood was not to be allowed to recede. The next piece is comparatively rarely heard these days. As a result, few realise just how stirring a piece it is. The orchestra now played "Crown Imperial" by William Walton. This was composed as a coronation march for the coronation of King George VI, it's first public performance being in Westminster Abbey on 12th May 1937. In the years since, it has lost none of it's power and grandeur.
Here we had a 75-minute interval
This was an opportunity to get something to drink and to meet up with Kirsty and Dave. After all, Hayley only meets people at the end of a concert, not during the interval. So, off we went to find the refreshments tent. No sign of Kirsty and Felipe. No sign of Dave and Amanda (his daughter - no, not Emma - the other one). I managed to get a drink and paid for it by taking out a mortgage. As our friends had still not shown up, we decided to head back through the great east gate and see if they were on the other side. As we were about to pass through the gate, Dave met us coming the other way. "Have you seen Hayley?" he asked. It turns out that Hayley had changed into casual clothes and had come out to meet people and sign autographs - IN THE INTERVAL!! Typical, trust us to be on the side furthest away at that time. After a few words, we stepped up the pace to a fast walk, only to meet Kirsty and Felipe going the other way. "Have you seen Hayley?" she asked. Funny, I thought. I'm sure I've heard that somewhere before. "She's still there," said Kirsty. After a few words with them, again Roger and I set off as fast as we could. By the time we got there, Hayley had gone. Gerald was still there so, I said "she's gone back in now for a break?" "That's okay," Gerald said, "I'll go and get her, she's just having something to eat". I was keen that she should eat first, and said so to Gerald. But, Hayley would have none of it. She came straight out to us and we had a lovely chat for about 15 to 20 minutes. This time with Hayley was made all the more special as it began and ended with a little hug and kiss for both Roger and I.
Part the second
The orchestra opened the second half with "The Old Hundredth" by Vaughan Williams. This was the perfect way to pick things up were they left off before the interval. Next up it was Hayley. She came on stage in a beautiful, full, off-the-shoulder, deep lilac gown covered in sequins which, as the light was now fading and the stage lights took over, shimmered and glittered magnificently. The audience were warming to her all the time. Her song this time was "River of Dreams" by Antonio Vivaldi/Sarah Class. (I don't know if anyone else noticed, but I did - there is an error in the programme in which they refer to Vivaldi as Antonia).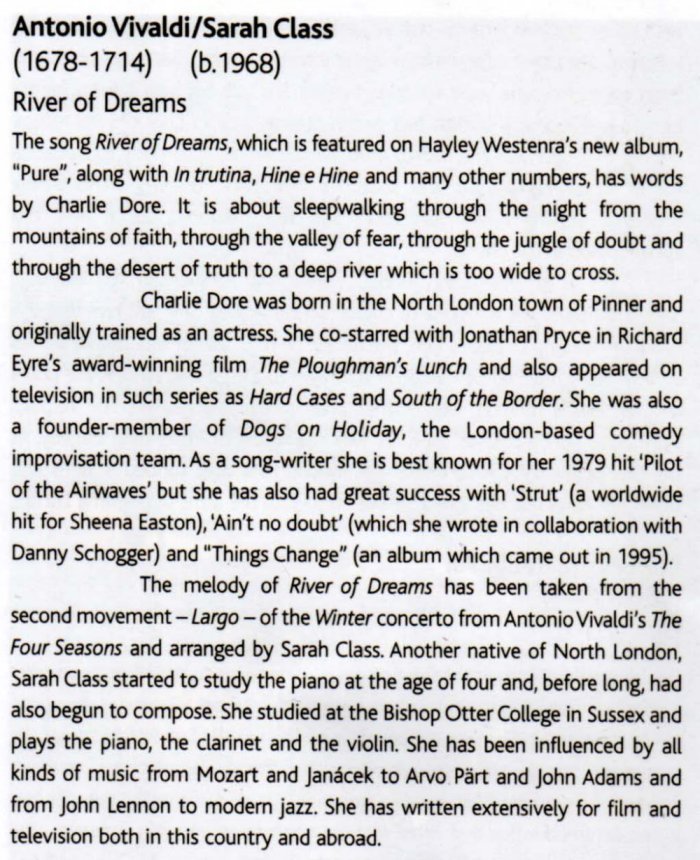 Enlargement available if required
Typically, Hayley performed this with absolute perfection. As she sang, there was a gentle breeze blowing, which caught the skirt of her gown moving it gently, as it did with her hair. This only made the spectacle all the more effective and could not have been better if it had been stage-managed that way. The only way of describing the audience response would be to say "delight". Once again, Hayley left the stage to rapturous applause. But, there was something missing. Something I had seen several times before - that gorgeous little wave she used to give as she walked off. She had not done that at all, tonight.
Next up, we were treated to "I Was Glad" by Hubert parry, followed by the "Intermezzo" from "Cavelleria Rusticana" by Pietro Mascagni. Yes, I am sure that everyone can see that the level was being ratcheted up steadily towards a huge climax.
Back to Hayley. Her final song according to the programme was "Hine e Hine" by Princess Te Rangi Pai.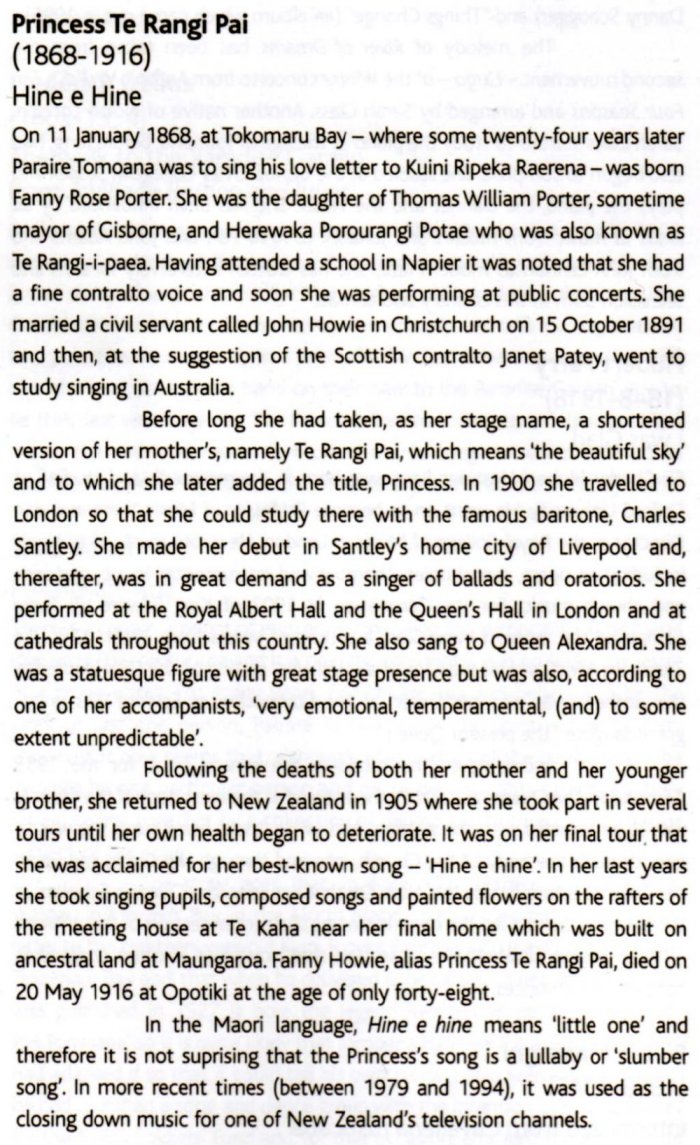 Enlargement available if required
Hayley delivered this with a full measure of feeling, which was lapped up by the capacity audience. All too soon she finished the song to very enthusiastic applause.
For the first time, the conductor gave a little signal to the audience to quieten down so that he could carry on. They obeyed. Proceedings were cranked up another level now as we were treated to "Polovtsian Dances" from "Prince Igor" by Borodin. Anyone familiar with this piece appreciates how it whips things up with its swirling, stirring climax. Just as well really, because we had to go up another step as we were treated to "Jerusalem" by Hubert Parry. Now, the audience got their turn as many joined in and sang along, some waving flags. Well, why should they sit there all night and do nothing? By the end of this, the audience were fair bouncing in their seats.
This is the point were the programme did not give details of what was to come next. Yes, we knew what the next item was to be. But, it did not say that Hayley would return to the stage to sing "Rule, Britannia!" by Thomas Arne.

Enlargement available if required
Never in all my life have I heard a more compelling delivery of this song. Hayley gave it 120% and, for the chorus, she signalled to the audience to join in. Which they did with gusto. The small hairs on the back of my neck tingled as Hayley put everything she had into a magnificently stirring rendition. The power and the emotion were almost too much to contain. And I've run out of superlatives to describe it. They audience went almost wild over it. This time, as Hayley left the stage, there was that wonderful little wave, and the applause grew in volume.
The final piece of the programme was "Pomp & Circumstance march No. 1" by Elgar. Now, it was the orchestra's turn to put everything they had into it, under the masterful direction of the conductor. They built it up, step by step, the chorus joining in for the last verse. I don't know about them, but the audience were virtually breathless at the end of it. Owain Arwel Hughes left the stage as the audience gave much stamping of feet along with thunderous applause. We were all determined it was not over. The conductor returned to the stage and we were treated to a reprise of the final verse. This time delivered with even more power and emotion. As he left the stage again, the audience rose from their seats and the foot-stamping began again. This time the audience were not prepared to stop. There had to be more. The conductor returned to the stage again, this time leading Hayley by the hand. As the audience saw her, there was not only applause, but a huge roar of approval went up. This was so obviously for Hayley, everyone loved her without a doubt.
Now, she was to virtually reduce the entire audience to tears as she gave us the most fabulous rendition of "Ave Maria" by Schubert. It was fantastic, it was fabulous, it was just so emotionally moving. After this song, Hayley left the stage but, she had to come back to acknowledge the audience. Then she was presented with a gorgeous bouquet of flowers. That really was the end, and it left the audience drained. But, never had anyone been happier.
The orchestra played one more piece - and I have no idea what it was. I was flying so high, it passed without me really noticing it. The evening's proceedings were over, apart from a magnificent firework display. Roger and I tried to go through to watch it, but the throng of people created a traffic jam we could not penetrate. So, we turned and headed for the exit. Once we had gone out of the gate to the roadside, we turned and looked back. So, we saw the firework display anyway. For the next half hour, Roger and I discussed Hayley and her performance, trying to outdo each other with the expressing of our appreciation for her, her music, her whole family and Steve, her manager.
Oh, what a night! My four-hour drive home passed with hardly any impression on me. I was revelling in the evenings entertainment; memories of my chat with her, Gerald and Steve. And being serenaded by her music all the way home on my CD player.
Thank you Hayley! Oh yes, you've done it again. You improved on perfection.
Following is the entry from the programme about Hayley:
(insert images 20040619_HamptonCourtFestivalFinale-05 and 06)

Enlargement available if required
Enlargement available - and this time it is required

Review and Brochure Scans by Keith S.
---