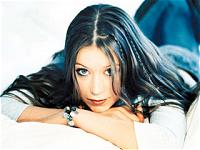 One Heck of an Evening!

Thursday, Jun 24, 2004 @ 7:30 PM

Tickets: $22

Purchase Tickets Online
or call Tele-Charge 212-239-6200

Hi,
I'm back! It was one heck of an evening! I don't quite know where to begin ...
I just attended THE most incredible concert of my entire life: Hayley Westenra at Joe's Pub in Manhattan.
Hayley was in spectacular voice tonight. She sang several songs from Pure including Pokarekare Ana, River of Dreams, Beat of Your Heart, Across the Universe of Time, Who Painted the Moon Black and Hine E Hine, along with Schubert's Ave Maria from her first album and a truly sparkling version of Mary Did You Know. For an encore she performed a stunning, pitch-perfect (well, would you expect anything less?) a cappella Amazing Grace.
What amazed me most was that despite the spartan arrangement (piano and violin) she was able to recreate all the moods and spirit of the recorded versions. You'd never expect it, but the "dee-da-dee-dums" that open Across the Universe of Time sound unbelievably beautiful when there's just her and a piano.
This concert was a revelation. It showed me that Hayley doesn't need all that Beatles-calibre production to sound fanatstic. The music is all in her voice.
She could have done the entire concert a cappella and been just as enthusiastically received.
I can't wait to see her again at Joe's Pub in August if I can score a ticket. I suspect most of the same people will eagerly be there as well.
Afterwards we all met Hayley and got more autographs and pictures. Gary Scovil will supply several for us, I'm sure.
Steve MacDonald
---
And here are several more of the excellent pictures Gary captured... All may be enlarged
Hayley poses with Joey

Hayley enjoyed meeting her many fans, as always

Hayley listens with interest

Steve MacDonald with Hayley

Steve with Hayley again

Duane gets into three shots... Guess she scored a few points with him... and her singing, several more!

Sorry I have taken so long with the following but I have been a little busy.

HWI was well represented for Hayley's concert at Joe's Pub. Here's a little explanation of what is happening in my pictures (see above). Steve McDonald who provided an excellent and immediate write up is in glasses and beard. The bald guy who looks so happy to have his arm around Hayley is my friend Joey, a new fan of Hayley. Joey was with me at the El Q club when we ran into Hayley, her father and Steve Abbott on the street. Joey was very disappointed he was not able to get a picture or an autograph then. He got both at Joe's Pup. The guy in the colorful shirt is Duane an old high school buddy of mine. Duane had never heard of Hayley, I called him up and said "you're going to a concert" he didn't argue. Duane had a great time and insisted on returning for the August 4th concert.

Gary