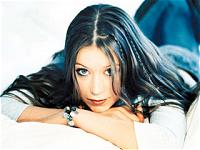 It's Cool to be Starstruck!!

Thursday, Jun 24, 2004 @ 7:30 PM

Tickets: $22

Purchase Tickets Online
or call Tele-Charge 212-239-6200
Welcome, NATASHA, our youngest ever OFFICIAL News Reporter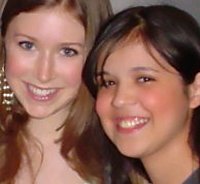 Hayley poses happily with Natasha
Hayley at Joe's Pub, New York
A Review by Natasha Poholka.
Its 10:53 PM, right now, and I'm still not a bit tired! Okay, let me start at the beginning…
I've been waiting for this concert, since I first heard about it! Some of you have heard about how I magically got my tickets…but I'll not go into that.
When I woke up this morning, I was already nervous to think of meeting and hearing Hayley! I had a queasy stomach all day.
We left home at about 5:00pm to make sure to get there with plenty of time. I wanted to get there a little early, so I could meet Alena and Steven…
We got there with practically no problem. (Although I forgot to print out directions, and we had to call our friends for help!) We finally saw the number and my dad let my mum and I out.
We were waiting on the sidewalk when suddenly a cab drove up, and low and behold, I saw Gerald Westenra. I was like, "I don't get it! I thought he was in NZ!" I glanced eagerly and nudged my mum. "Mum, its Hayley's father!" I whispered. Another woman came out of the car, and then…Hayley! I was so star struck I just couldn't say anything; I just kept staring and smiling to myself. I couldn't believe that Hayley was actually standing right next to me! (lol)
They got out and went inside. I waited impatiently for my dad and sister. And when they came I said, "Oh my goodness, you'll never believe what just happened! Hayley just drove up with her dad in a cab…and she stood right next to me!"
My dad and sister smiled, seeing I was obviously terribly star-struck. My dad was somewhat worried, about the venue being a bar. However, he reluctantly decided that it was all right. Then a blonde woman smiles and said, "Hi Natasha!" I recognized her immediately as Alena. "Steven's over there," she said. I smiled and waved to Steven, but I was in cloud nine at that moment so I didn't think of going over to him…so to speak my head was still in the clouds.
Therefore, Steven came up and said, "I guess your Natasha." I've chatted with Steven over the internet for ages, and I was so excited to actually meet him! He obviously was a very nice gentleman. We chatted for a few minutes, and then he went back to his chair.
Crystal .. Hayley .. Natasha
Click to enlarge
The waiters then led us to some stools, since we hadn't got a table. But they realized that we were disappointed, and kindly led us over to a special cushioned area. You could see the stage perfectly from it, even better than the people below could! And then we met Steve McDonald, or Stevo. Thinking about it now, I think I should have invited him to come and sit with us rather than sit on the stool, but unfortunately, I did not think of it then.
I immediately took out my video and digital cameras. And then I decided I needed to use the bathroom. The waiters directed me down a hall. And there was the women bathroom, but I saw many people ahead of me. I decided to see what they were all doing. To my surprise, Hayley was standing there posing and signing autographs! But I figured since the show was almost starting, I would get to her afterwards.
I then ran back and got to items from my bag. An autographed Charlotte Church poster and Becky Taylor's "Dives & Lazarus." I went up to Steven's table, and handed him the poster. I could tell he was a little taken a back. "Where did you get that?" he asked sheepishly, and then immediately he said, "You won it on the forums!" And then a puzzled look came over his face, "Why are you giving this to me?" he asked. "We'll," I explained, "You've never had anything signed by Charlotte." I could tell he was still surprised, and maybe a little touched. "All I can say is, thanks." He muttered, I smiled and moved on to Alena.
As we have previously agreed, I handed her "Dives & Lazarus" and she gave me, "God help the outcasts." And then she gave over and sat with us for a while. When she left, I got my cameras ready for the show.
Then a tall woman came on the stage, carrying a violin. I immediately presumed it was Hayley…but I was mistaken, and a little disappointed. I shut my video camera off.
I had a hunch that while the audience was applauding the violinist, Hayley would walk on stage. And I was right. Hayley & her pianist came on stage, and the audience, (who obviously all were there to see her) gave her a warm applause. Then Hayley sang, "Pokarekare Ana," a cappella. The audience were immediately impressed, and applauded her strongly.
Then Hayley sang, "River of Dreams." I suddenly realized I had turned off my camera, and immediately switched it on. Sadly however, I missed Hayley's beautiful rendition of "Pokarekare Ana," and most of "River of Dreams."
Next Hayley sang a song which she says is one of her favorites, "Mary did you know." I was pleasantly surprised. And then Hayley followed it up with Schubert's "Ave Maria," which could only be heard to be believed. It was absolutely stunning. Then Hayley left for the intermission.
The violinist played one solo, afterwards my sister (who convinced me into giving her the camera) turned my camera on, but when the violinist began to play again, she turned it off. Just then Hayley walked on stage, and Crystal rushed to turn it back on! Hayley sang, "Who painted the moon black?" It was a little weird to hear that one without the guitars, and drums but Hayley's voice pushed those thoughts far away. Afterwards the audience applauded her…and didn't stop! Hayley was obviously surprised. "Thanks so much!" she said smiling broadly, "I didn't expect that!"
Next Hayley sang, "Beat of your heart," & "Across the Universe of Time." Then she concluded the concert, (which in opinion was hours to short! lol.) with "Hine E Hine." But the charmed audience wasn't about to let her go with out an encore, and thus we continued clapping, and I and quite a few others gave her a standing ovation. When Hayley came out, she sang, "Amazing Grace," a cappella. Her voice was so beautiful…everyone was on the edge of their seat. You could have heard a pin drop. Afterwards Hayley smiled, and left the stage. The audience continued clapping, whistling, and nearly half gave her a standing oblation.
Then I caught eyes with Steven, who was busily doing what he could do get us to meet Hayley. He caught up with Gerald Westenra, and told him about my sister and I, and Gerald promised that Hayley was coming out.
So, we went backstage…and once the other people realized Hayley was signing they all went backstage. In a matter of minutes the room, which had previously been bursting with people, was desolate.
Steven got Alena, and my sister and I to the front of the crowd. My mom and dad where filming it all! When Hayley came out the crowd swarmed her, making it difficult even for those in front to get to her.
Steven tried quite a few times, to get Hayley's attention but each time someone else would get her. Hayley posed with quite a few children, and seemed to want to sign for them first. Steven & Alena tried to push us forward but my sister and I were a bit nervous.
Hayley signed Alena's CD's, and then finally after another round of people, she signed Steven's CD's. Steven was obviously amazed, and very star struck. However, he talked to her about Holly Holyoake & Claire Halligan, who Hayley remembered immediately. Then Steven gave her a little pin. Hayley was shocked. Obviously, she didn't expect someone to give her a gift! And then she gave Steven a peck on the cheek! You could tell he didn't expect she would, and so I guess they were both a little shocked at their meeting! (lol)
Steven & Alena pushed us towards her, and Hayley noticed us, (talk about adrenalin rush!) and was about to sign when someone else got her. She quickly glanced to me, as if reassuring me, she hadn't forgotten me, and when she was finished she signed my two CD's. One to me, and one to my best friend Catherine. Steven said that we were singers to, and Hayley seemed pleasantly surprised. "How old are you?" she asked. "13." I said. She chuckled and said, "You're so small!" I grinned.

Then we took a picture with Hayley, who seemed perfectly willing to take another if the photo wasn't to our satisfaction, but I knew she had many eager other fans so I merely gave her the gift I had for her, and wished her a happy belated b-day. She wasn't quite as shocked as she was when Steven handed her the pin, but she did seem very surprised, that a second person was giving her a gift.
But then I said, goodbye and left. My sister took a picture for Alena, and Alena took one for her husband. Steven and I repeatedly went up the stairs, to get candid shots of Hayley signing for other fans. Steven told me, "I can't believe Hayley let me kiss her!" And then he handed me an autographed copy of Hayley's album, "My gift to you." I just stared, I couldn't believe it. "Fair exchange." He said. I thanked him, I just couldn't believe it!
And then Steven and I had my mother take a picture of us. I was still shaking with nervousness from meeting Hayley, so I think Steven thought I was a bit nervous to be hugging him. "Don't worry," he assured me, "I'd never harm anyone. I'd only kill them with a debate." I smiled.
Later Steven, Stevo, Alena, and I took a picture. It was amazing to meet all of them. Then it was time to leave. I said good-bye to Alena, who was very sweet, and to Stevo. Then I said bye to Steven, who gave me a hug, and kiss on the cheek. I returned the favor, and gave him a little peck on the cheek. "I'll keep writing," he said. I waved and that was the last I saw of him.
I watched the video half way home, and then my sister and I started singing. The adrenalin was still running so high, that I sang "The Laughing Song," hitting the D above the sopranos high C!
I asked my dad what he thought of Hayley, and he said he was impressed! And that's amazing, because my dad is very picky. I think he's terribly prejudiced to my sister and my singing, and so he hardly listens to any other singers, forget about liking them!
Truly I can say it was a magical night, a night I will never forget. Thanks so much to Steven, Alena, Stevo, & Hayley for making it the night of my dreams!
Natasha.

---
Three of the pictures from Gary of Hayley with Natasha after the show... All may be enlarged
| | | |
| --- | --- | --- |
| | | |
| Natasha Poholka meets Hayley | From left to right - Hayley, Natasha and Crystal (Natasha's sister) | Natasha Poholka and Hayley again |