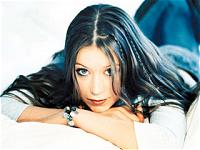 REVIEW
I've just returned from the New York Pops concert at Bryant Park in which Hayley was a special featured artist.
Hayley's participation occured in the second half of the concert, after being introduced by conductor Skitch Henderson as "Hayley WesteRNa" -- ahem. He mentioned how special a place New Zealand was and how remarkable Hayley was with youth on her side and such a rare talent.
Her first offering was "Pokarekare Ana" which she delivered in a calm but spirited voice that richly conveyed all the song's feelings of longing and separation. Perhaps having to spend so much time away from her homeland gives her a more poignant take on this tune every time she sings it, so it felt to my ears.
After the applause quieted Hayley addressed the audience regarding the song she just performed and then announced that her next song would be Carl Orff's "In Trutina." Shifting into a tender and ethereal tone, Hayley visited a haunting magic to this aria that wasn't fully captured on her album. The gulf between her astonishingly beautiful live voice and her merely glorious recorded voice was never more apparent.
Hayley introduced her last song as "one you all know, arranged by Sir George Martin who produced the Beatles and whose son produced my album." An reverant hush took over the park when she said the song's title, "Amazing Grace." The orchestra played the first bar only to drop off gently as Hayley's voice filled in, allowing her to sing a cappella for the remainder of the opening verse. Clearly warmed up, she allowed more strength and power into her tone as the song went on whilst sacrificing none of the legendary purity.
This being a New York free crowd there were appreciative whoops and whistles that joined in with the applause as she took her bows. A scattering of people stood to honor her for what was without a doubt a masterful performance.
Afterward, several of us including Steven Olivo, Natasha and her dad, Alena and her hubby, and myself swung around to the "baskstage" area where Hayley was signing autographs. The pics to come from all of us will tell a story of a resplendent Hayley who, despite getting only an hour's nap since her concert before 50,000 people in Madison the night before, was more delightful, glamourous and personable than ever.
Steve MacDonald

Yahoo! Groups Links
To visit the HWI group on the web, go to:
http://groups.yahoo.com/group/hayleywestenragroup/
Your use of Yahoo! Groups is subject to:
http://docs.yahoo.com/info/terms/