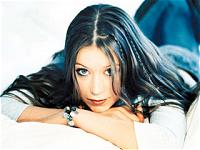 REVIEW
If I had any doubts about Hayley or her music, they were dispelled by her concert at Joe's Pub and all that came afterward. I was determined to hear her again live, and Stevo, Alena and Natasha were all of the same mind with regard to her appearance in Bryant Park, even if we were not to get up close and personal again.
It had been a rainy and muddy week, but Thursday dawned cloudless, so I loaded my bag with camera, film, and several enlargements I'd made from Joe's Pub, of myself, Stevo, and Natasha and Crystal all posing with Hayley and a few close-ups of Hayley herself. The thought was I'd parcel them out to the people there, and they'd be signed if and when they were signed.
The Holland Tunnel was a horror that day, but I'll not dwell on that. I had a few dicy moments, even a cell-phone call asking me where I was, but I found myself sitting down next to my friends well up front just as the initial chatter from a local classical DJ was ending and Skitch raised his baton to downbeat John Williams' classic "Olympic Fanfare," known to all who watch major sporting events. In the slower moments I passed out the pictures and also passed around the other pictures from Joe's Pub.
After the fanfare, which is actually more a symphonic movement than a simple flourish, several Olympic and Paralympic atheletes were introduced, since this event was sponsored by the committee overseeing NYC's bid for the 2012 Olympics. Among them were Ireland's Deidre Murphy, Mexico's Carlos Arena, and, wonder of wonders, Paralympic doctor and Irish tenor Ronan Tynan! Ronan stepped up and gave a lovely, if slightly unconventional due to a long recitiative beginng, version of "Danny Boy." That alne was a great bonus, but afterwards the program continued with Greek composer Manos Hadjidakis' lush "Never on Sunday," and then a suite of Georger Gershwin pieces, which included "Rhapsody in Blue" and several excerpts from "Porgy and Bess" sung very well by Puerto Rican soprano Brenda Feliciano and played with great gusto by Cuban expatriate saxophonist/clarinetist Paquito D'Rivera. A long salsa encore brought the first half to a close.
During this time Alena and Natasha left their places and went back to the VIP tent. Wonder of wonders, Hayley actually approached them and they spoke a bit about this and that, though she said she'd get to signing afterward. So they returned and we awaited the second half.
After a brassy rendition of the finale to Rossini's "William Tell Overture," known to all fans of the Lone Ranger, it was time for Hayley. Skitch Henderson spoke well of her, but, alas, pronounced her name "Hayley Westernra." Oh well. Whatever her appellation, Hayley walked confidently on to the stage clad in a blue-green sleeveless dress with a colorful flower design and white three-inch sandal heels. We gave her thunderous applause and loud shouts. She began with her signature "Pokarekare Ana," lovely and ethereal, and all the more lovely for being accompanied by a full orchestra.
After that, she explained to the audience exactly what the song meant, and began her second piece, "In Trutina" from "Carmina Burana." The piece was letter-perfect with no sign of mistakes.
Her last piece was George Martin's arrangement of "Amazing Grace" a song she said she was sure everybody knew. In the second verse the orchestra faded out, leaving it to her to carry the piece a cappella, which she did with not one slip, showing she does in fact have perfect pitch. She did not go for some of the high notes on the recording, but, lest that be taken as a criticism, she was also coming off of a concert in Wisconsin and operating on one hour's sleep, to say nothing of not needing to strain to make her point. High notes do not a lovely voice or lovely arrangment make.. After taking two bows she left the stage, to thunderous applause and a few people standing, and, I suppose, it is here we should apologize to the Pops, for the six of us seated together, myself, Stevo, Alena and husband Josh, and Natasha and her dad, made a beeline for the VIP tent, where naught but a white fence stood between us and Hayley, leaving the orchestra to finish the program with Ravel's Bolero.
At first she stood back from the barrier, talking to her entourage, but she could see people gathering and obviously looking to her, and approached when sh saw us wave, saying she did remember us from Joe's Pub. It was here that I got my first good look at Hayley, and her makeup artists did a tremendous job, for there was no sign of tiredness anywhere about her face.
I seized her hand and kissed her on the cheek, congratulating her on another great performance, and then the people advanced, seeking the signing of this or that. She signed my picture of the two of us, after again calling for a felt-tip pen, and then the items of others. In the discussions that followed I managed to ask her about her next album, which she is scheduled to begin in February. According to her, it is going to be a mix of things, just like Pure was, which I think is good, though if she chose to go all original I would be fine with that too. I also gave her the three close-up pictures of her, telling her she could parcel them out as she chose. Surprisingly, some folks there called for her to sign them and pass them out on the spot, which she cheerfully did with two of them, though she kept the last.
Among the people behind the barrier was a man wearing an FDNY shirt, obviously one of the heroes of September 11th, though whether he was there or not I do not know. I called for Hayley to pose with "this local hero" which she cheerfully did, and then it was Natasha's turn to get her picture signed. Hayley wrote a personal message in addition to signing, and then came out from behind the barrier to pose with Natasha. We all snapped pictures, alas, that was the end of my film, for then the two faced each other and Natasha gave Hayley a big hug, which Hayley heartily returned, both of them with big smiles for the other.
It was getting late, but before I left, I said goodbye to Natasha, who also gave me a big teddy bear hug, and to Alena, Josh, and Steve, but not for very long, for Joe's pub will see us reunite, and once more show our appreciation for Hayley, who brought us all so much happiness.
I can only say I hope Hayley got to sleep in on Friday, for she had certainly earned it, doing two concerts thousands of miles apart AND meeting and greeting voracious fans in both places with not one crack in her kind disposition, despite very little sleep. If you read this, Hayley, though you are certainly a world-class singer, I think this shows you to also be a world-class person, and if they gave medals for generous hearts, your actions here would certainly have earned you one.
Steven Olivo
View Accompanying Images


Yahoo! Groups Links
To visit the HWI group on the web, go to:
http://groups.yahoo.com/group/hayleywestenragroup/
Your use of Yahoo! Groups is subject to:
http://docs.yahoo.com/info/terms/