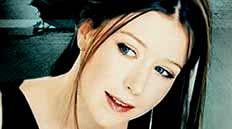 Hayley Westenra
REVIEW
The euphoria brought on by seeing Hayley Westenra in concert last Wednesday night (August 4th) at Joe's Pub has scarcely worn off, but it has subsided just enough for me to put together a brief review.
I arrived inside Joe's Pub at 6:45 p.m. and was greeted by several familiar faces, including Steven Olivo, Alena & Josh and Gary Scovil, all of whom were clearly excited about catching Hayley one more time.Luckily, I was allowed to take a seat just below center stage and had, arguably, the best sight-line in the house. This close proximity had its drawbacks, which I shall address later on, but I could not have been more thrilled when I sat down, knowing I was perhaps in the most coveted seat in the house.
The violinist Fiona from Christchurch, New Zealand, got things rolling with a flavourful solo piece she had played in the previous concert last June with sparce accompaniment by pianist Ian, from London, England.
Then to loud applause Hayley Westenra stepped up to the stage and began her beguiling "Pokarekare Ana." Waiting until after the first verse before joining in, Fiona and Ian provided an unobtrusive accompaniment that perfectly meshed with Hayley's phrasing. A warm round of applause sprung forth from the delighted audience and brought a huge smile to Hayley's glowing face.
She promptly thanked us and said how great it was to be back and briefly talked about that song's origins. She said that New York was like a second home to her since she'd been traveling so much lately and added that she was going back to New Zealand in a few days to tape a PBS Great Performances special.
Then she introduced her next song,"River of Dreams," mentioning that it was based on Vivaldi's "Winter." Anyone who was there will agree about this particular rendition: Hayley's voice was simply ravishing from start to finish.
She then gave credit to Giles and Sir George Martin for writing and producing her next song -- announced in her delightful Kiwi accent as "Beat of Your Hott." She started the song just fine but fumbled the lyrics in the third line -- a minor gaffe from which she instantly recovered. With more assertive phrasing than I'd heard in her previous performance she went on to make this one of the most memorable tunes of the night.
Her next song was one of her favourites, "Mary Did You Know?" and was also an audience favourite, winning a substantial ovation after the final word "Mary" trailed off.
Her first group of songs completed, Hayley then welcomed Katherine Jenkins, a strikingly pretty mezzo-soprano from Wales, to the stage. Straightaway Ms. Jenkins launched into Schubert's "Ave Maria" in a voice so lovely it hurt. A lovelier version of this I cannot recall. Cries of "Brava!" could be heard amidst the roaring ovation she received.
Katherine charmed the crowd with a delightful tale of being a schoolteacher in England a year ago and having four ambitions:

1. to sing at the Sydney Opera House (which she did last October)
2. to sing at the Royal Albert Hall (which she did in May)
3. to have a Number 1 album on the classical charts (it hit #1 the
first week)
4. to visit New York and sing at Joe's Pub!
Suffice to say, we were putty in her hands at that point.
Katherine then introduced her next offering with "Now I'm going to sing for you a song where I'm going to be a naughty girl now, and this is the 'Habanera' from 'Carmen.' In this song Carmen's trying to seduce the men around her when she tells them, 'If you don't love me, then I'll love you. And if I love you, watch out!'" I sat there mesmerized as Katherine's majestic vocals and sensual gestures made this aria a sultry and sassy tour de force. A huge ovation followed. I can honestly say this was the finest mezzo voice I'd ever heard in my life.
And then, in one of the most bitter-sweet moments of my concertgoing life, Katherine then announced that she was welcoming Hayley back to the stage and departed from view. How I wished she could have stayed for another aria.
After a minute Hayley returned to the stage and sang the most soothing number of the evening, "Who Painted the Moon Black." It was like medicine for the soul and something I desperately needed after missing Katherine so acutely.
Then she sang "Across the Universe of Time" in a voice that was simply ravishing, followed by "In Trutina" which was a study in tonal perfection.
Hayley's welcomed Katherine back onstage for the "last" song of the night which she dedicated to the Kiwis in attendance -- a sublimely inspired duet of "Hine E Hine." Their chemistry was superb, both vocally and visually. Perhaps the longest and noisiest ovation of the night ensued, ensuring an extraordinary encore of "Amazing Grace" by Hayley done a cappella.
The concert clocked in at just 45 minutes from start to finish. Easily the best quarter hour my ears have ever experienced.
The problem I mentioned earlier about being so close to the performers stage is that there's an eery mix of the ordinary voice with the amplified voice. You can hear them on two levels at once and the unamplified Hayley is vastly superior to the Hayley that comes through the sound system. My idea of musical ecstacy would be to hear her perform at an acoustically optimal venue without a mike so the incomparable beauty of her voice could be heard directly.

Steve MacDonald
View Accompanying Images

COMING SOON

Yahoo! Groups Links
To visit the HWI group on the web, go to:
http://groups.yahoo.com/group/hayleywestenragroup/
Your use of Yahoo! Groups is subject to:
http://docs.yahoo.com/info/terms/