click any image to enlarge in a new window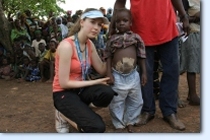 Hayley looks at the leg of a child affected by Guinea Worm.
A disease resulting from drinking dirty water.

Hayley, with several bikes, and just a few of the many friends she met while in Ghana
Quote: "The education project to purchase bikes for rural girls in northern Ghana, which Hayley has committed to, will greatly improve their participation in education," said Dennis McKinlay, Executive Director of UNICEF New Zealand who took Hayley to Ghana. "Research shows providing a girl a bike increases enrolement, improves attendance and raises the girls academic standard. For Hayley and her supporters to make a significant difference to the lives of 6,000 children is quite an achievement, one you all can be very proud of."
McKinlay said UNICEF were extremely grateful for the support Hayley, her family and supporters are providing to making education available to these girls.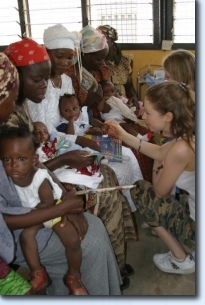 Hayley taking part in a national polio immunization campaign.
Children receive Vitamin A drops at the same time to boost the immune system.

Hayley with more friends, and yet more bikes.
---
Every cent counts, every penny matters
Please make your secure donation to Unicef NZ today
Together, we can make all the difference to a child's world.
A Video Request from Hayley
Intro | Page 1 | Page 2 | Page 3 | Page 4 | Page 5 | Page 6 | Page 7 | Page 8 | Page 9
For more information on Africa, the country, and Africa, the people, see
Africa Lives on the BBC
Copyright © 1995. All images and logos are copyright UNICEF, den Dulk and Jill Westenra.
Should you wish to re-use any of the images on your own site, please submit your request prior to display. Thank you.