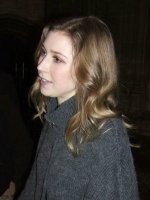 We (George, Chris & Tracey) had a great night last night. It was nice to see so many familiar faces.
We managed to get reasonable seats along with Peter. It was obvious that many unreserved seats had no view at all which I could not imagine those people being happy at all.
Here are a few shots with Hayley afterwards. It was not possible to get any shots during the performance but I think there will be some posted before long!
Grant, I hope you don't mind but here is one of you with Hayley. I know many people are waiting to put a face to your name.