Six years ago, New Zealand's Hayley Westenra was busking for lunch money on a Christchurch street corner. Now, she's performing with Il Divo on an extensive North American tour.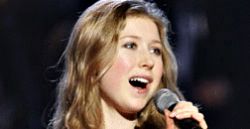 In between, the 18-year-old songstress has released two albums that showcase a range from pop to classical. Her current disc, Odyssey, includes a duet with her idol, Andrea Bocelli.
"Isn't he fantastic?" Westenra gushed. "His was the very first album I ever bought. When the opportunity arose to tour with him on a New Zealand and Australian tour, I jumped at the chance. The first show was in my hometown as well, which made it even more special. It was a dream come true performing with him and to go on to record with him. It was a thrill. I still can't believe it!"
Pollstar caught up with Westenra "making the most" of her last day of the New Zealand summer before heading to the U.S. to launch the Il Divo tour. While she's toured the States before with the Boston Pops, the trek is certain to show American audiences what has captivated fans from New Zealand to Japan and beyond for the last three years.
Her debut record, Pure, is the biggest-selling album by a New Zealander in history, and after its release Westenra found herself performing at such prestigious venues as the Sydney Opera House, Royal Albert Hall and Carnegie Hall with Bocelli and famed tenor Jose Carreras.
What is so mind-boggling about Westenra's leap onto the international stage is that she has done so with very little formal training but a clear, ringing voice and an ear for music to best wrap it around.
"I had a few lessons here and there, but when you're still young it's not good to do too much to your voice," she said. "But up until a year ago, I hadn't really had that many lessons. I trust my gut instinct on those things.
"Now at 18, I'm more aware of vocal technique and breath control. So I'm keeping healthy and resting my voice as much as I can which is a little harder around touring. But I wouldn't do anything that would push me too far out of my comfort range."
She's going to put that to the test with Il Divo. Bedlam Management's Steve Abbott saw the appeal of a tour for Westenra with the four young singers. Her longtime manager went after it.
"It came about because it was an obvious concept the two bestselling international classical crossover artists in the world touring together," Abbott told Pollstar. "I chased the tour after Hayley was suggested by SJM in the United Kingdom and Il Divo's U.K. agent John Giddings (who now reps Westenra as well). It all came about very quickly in the end."
Prior to the current tour, Abbott worked to get Westenra booked for six months in Germany, the U.K., Australia, and Japan. He hopes to schedule another U.S. tour in the last half of 2006.
Despite being known as more of a classical artist, Westenra's developed a youthful fan base. She's influenced as much by Joni Mitchell and Stevie Wonder as she is by Bocelli, and that's reflected in her song choices: she includes a cover of Judy Collins' "Both Sides Now" on her new album but credits Mitchell's version.
"I've been listening to Joni Mitchell a lot in the last year," Westenra said. "She's an inspiration and an amazing interpreter of songs. Then again, I listen to a lot of music, like Lorena McKennitt, Aretha Franklin and Stevie Wonder. I've been listening to Angie Stone and The Bangles. Anyone looking at my iPod would be very confused about my music preferences," she said, laughing.
She'll have plenty of time to listen to them on the road this year. Abbott is working on her itinerary for the full year and has very definite ideas about rolling her out for new audiences.
The Il Divo tour is a prime example of creating an attractive showcase for Westenra.
"What must be factored in, of course, is the idea of touring with male artists, which has worked so well for Hayley touring with Jose Carreras and Andrea Bocelli around the world," Abbott explained. "Audiences love the male/female performance interplay, and Il Divo and Hayley will be performing at least one song together on the tour.
"Hayley has such a remarkable voice that we have to be careful in choosing duet partners in that they have to be able to pull it off. It seems a little arrogant, but it's just practical; if they can't deliver it makes Hayley look untogether."
It's hard to imagine how that could happen. "Steve's a fantastic manager," Westenra said of Abbott's guidance. "He's very communicative and he doesn't work with too many others, so he's able to always be looking after me. He feels like part of the family, which is really nice.
"Steve understands where I'm coming from. I'm very keen to work. I want to make the most of this amazing opportunity."

Deborah Speer