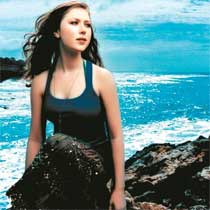 Hayley Westenra
(Decca/Kevin Westenberg)
It's 1 o'clock on a Thursday afternoon, and Hayley Westenra is still in her pajamas, but not for the usual reasons that an 18-year-old girl would be in such a situation.

Hayley was up late the night before, singing for an audience with the Ottawa Symphony. And it wasn't going to be many days before she would meet up again with Il Divo to continue their joint tour.

Spurning a cup of tea or coffee in favor of a drink mix from the health food store, Hayley settles down for a chat on the phone. There's sure a lot to talk about. She is touring partly to support her album, "Odyssey." It's the follow-up to her debut album, "Pure," which has sold 2 million copies to date, topped the U.K. classical charts and also went Top 10 in the pop equivalent. In Japan, Hayley had a No. 1 single with "Amazing Grace."

Her voice is more operatic than pop, definitely more Charlotte Church than Britney Spears. It's almost startling to hear such a sound pouring forth from one so young.
"I guess I do just probably take it for granted," Hayley says, explaining that she does not hear her own voice the way her fans do. "I am aware of my faults and the things I need to work on."

But, to those who don't have a fabulous singing voice and have always imagined that it must be wonderful, she does admit, "The singing fills my whole body and my soul. Everyone loves to sing, even if it's in the shower. I'm lucky enough to give pleasure to other people."

Among those to whom she has given such pleasure is Andrea Bocelli, who did a duet with her for "Odyssey" and with whom she has performed in concert. But, when they first met, he told her that he had listened to her singing and told her, "You have the voice of an angel."

His was the first album Hayley ever bought, she recalls, and so she was understandably nervous when they first met three years ago ("It was at the Classical Brit Awards in London"). And then, later, she was invited to sing with him; as it turns out, the song they performed together, "Time To Say Goodbye," was one to which she had sung along many times when she listened to his music.

"It is such an honor any time I do sing with him," she says. "He is a very warm person. And he did give me one word of advice: To live my life tranquilly. Hard to do at the moment, but I do try."

She also has performed with opera star Jose Carreras, but she has an even higher aspiration: "When The Three Tenors are reunited, I would love to be invited to perform with them." (That would be not only Carreras, but also Placido Domingo and Luciano Pavarotti.)

On her album "Odyssey," Hayley covers "Both Sides Now," the song written by Joni Mitchell that was a huge hit for Judy Collins in 1967.
"Initially, it just jumped out at me was a great song," Hayley says. "But as I read into the lyrics more, I just became very attached to them. And every time I perform the song, I look into the lyrics differently."

Hayley has said that when she made "Odyssey," one of her goals was to make a record that would represent her as a person, and she took the opportunity to choose songs that reflected how she felt about life and the world. But when you're a teenager, things change fast.

"Obviously, you keep on growing as a person," says the young singer, "and I recorded (Odyssey) a year ago, so I have moved on quite a bit. It's definitely closer to representing me than 'Purer' …. Now, I'm doing a lot of writing. That's the next step up."

For Hayley, a life of song started when she was a very young child.

"Singing was very instinctual. It just made sense to me to sing whenever I could," she recalls. "I feel very fortunate to have this gift, so I do want to share it with the world and do whatever I can to just use it the best I can, for good. It does feel like a calling."

By the time Hayley was 11 years old, she had appeared in at least 40 amateur stage musicals in Christchurch, New Zealand. Was there ever a role she wanted that she did not get?

"Oh, yes, I'm sure there was," she replies with alacrity. "I got boy parts quite often. In ballet, there were not enough boys. So they ended up choosing half and half. I got chosen to wear the grey suit and the wig, and not the pretty dresses. In 'A Christmas Carol,' I was Tiny Tim, so I got to be quite a sick, sick boy. There was a severe lack of singing boys and, at the time, it was quite disappointing."

These days, Hayley doesn't have to pretend to be a boy, but she's sure getting to sing with the boys. She is touring with Il Divo, and she's well aware "there are a lot of jealous women out there."

The truth is, while she says that they have been "lovely and welcoming," she doesn't hang out with the members of Il Divo on the road: "While they may go out after the shows, I don't because I always regret it the following day. As you get older, your voice becomes more settled, and you can take liberties like that. But my voice is still developing and so it's very fragile."

But it's not all business with her voice. Hayley often sings and hums just for fun.

"I do! I can't help it," she says. "Sometimes, when I have a show coming up and I have to rest my voice, it can be quite frustrating. I can't help but sing around the house."
---
TEN QUICK ONES With Hayley Westenra

Dog or cat?

Dog. (Hayley doesn't have a dog but a bird, a cockatiel named Zac.)

Spring or fall?

Fall

Sweater or sweatshirt?

Sweatshirt

Favorite color?

"I couldn't begin to say."

Latest movie seen?

"Pride & Prejudice"

Brownies: Nuts or not?

Nuts.

Dinner for two or dinner for 20?

"Dinner with all my friends would be a rare treat."

Last meal?

"A home-cooked meal; one of my mom's or dad's dishes"

Motto?

Two of them:

"Live life to the full."

"A mistake is something to learn from. You have to make mistakes in order to grow."