Vote for Album of the Year and win £1000 worth of National Savings and Investments Premium Bonds
Vote for the National Savings and Investments Album of the Year
Here are the ten top-selling classical albums of 2005. Choose from one of the following and cast your vote for the National Savings and Investments Album of the Year. One lucky voter will be drawn out of the hat to win £1000 worth of National Savings and Investments Premium Bonds.

NICOLA BENEDETTI Szymanowski/Chausson/Saint-Saens
CHOIRBOYS The Choirboys
KARL JENKINS Requiem
KATHERINE JENKINS Living a Dream
ALED JONES New Horizons
JOSEPH MCMANNERS In Dreams
ROBERT MEADMORE After a Dream
AMY NUTTALL Best Days
BRYN TERFEL Simple Gifts
HAYLEY WESTENRA Odyssey



---
Sadly for her fans, and even more so for Hayley who smiled through it all (as we've come to expect of our very special young lady), the award for Album of the Year passed her by once again, being won for the second year running by Katherine Jenkins and "Living a Dream". Katherine's acceptance speech was very moving, and obviously from the heart, attributing part of her outstanding success to herFather who passed away ten years ago, but who was obviously a great inspiration to her.
Not a good night for the Welsh, but this last award certainly brought out the flags!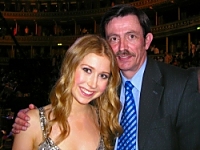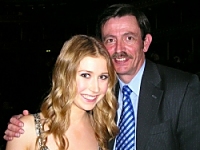 Roger, Dave and several of the other HWI team members were there to watch the recording of this year's Classical Brits, and here are the first two pictures from the evening, taken during the interval when Hayley "homed-in on the Blues" sitting to stage right, very close to the orchestra, and only a few tables from where Hayley and her party were placed.
Nice one guys! Everyone else, Enjoy!