(all images except the last are thanks to Dave Ludlow)
There was a two-mile tailback as we approached the toll booths situated none-too-conveniently at the western side of the bridge which crosses the River Severn. Once at the head of the queue, we had a choice. We could either forfeit £4.90 for the privilege of crossing the bridge over which we had just come, or be banished from Wales forever. Do they have this trouble on the New Jersey Turnpike?
We later learned that Hayley had been delayed in the same way! Consequently, she had to sing her final song together with the massed choirs having never rehearsed it with them which, of course, she pulled off with her usual professionalism. And so the concert ended. Oh sorry, I've missed a bit!..
Dave and I took our seats in the centre of the seventh row moments before the concert was due to start. It wasn't until the interval that we noticed Peter who was sitting two rows in front of us!
This was the third occasion that I had seen Hayley in St David's Hall and, of all the venues I have visited in the UK, this is one of my favourites. The event was held in celebration of the 40th Anniversary of the formation of the Cardiff Arms Park Male Choir who appeared as part of the Massed Choirs:
Cardiff Arms Park Male Choir
Canoldir Male Choir
Dowlais Male Choir
Côr Meibion Gwent
Kenfig Hill Male Choir
Côr Meibion Maesteg A'r Cylch
Neath Male Choir
Côr Meibion Penybontfawr
Côr Meibion Pontarddulais
In total, there were approximately 500 voices! The 52-piece orchestra, according to the programme, have no name! They were conducted by David Last, whose idea it was (over a year ago) to hold this celebration which he hopes will become an annual event.
The choirs opened with three works which culminated in the almost obligatory 'Men Of Harlech'. At this point, Beverley Humphries, who hosted the concert, introduced the young singer who began her career as "The Littlest Star" in a school play. She went on to mention busking in the streets of Christchurch and the slap-up meal that was bought with the money earned and the eventual promo CD (Walking In The Air) to appearances at the Royal Albert Hall and the Sydney Opera House. For reasons that escape me for the moment, she never mentioned Belinda's constant encouragement and support during this time!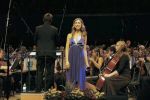 Hayley glided onto the stage dressed in blue and began her first set with Cacchini's 'Ave Maria' which immediately won the approval of the audience. She then outlined the story of her next song, saying it told of a girl pleading with her father to allow her to marry her loved one, otherwise she would through herself from the Pontevecchio Bridge into the River Arno. Hayley added, "Unfortunately, I haven't had that problem. Oh well, one day!" Meanwhile, I wondered if such an act might have relieved our tension when Dave and I had crawled across the Severn Bridge just an hour or so earlier but banished such thoughts from my mind in favour of getting home intact to write a review for you all. Aren't I considerate! Anyway, back to the plot.
This, as all Puccini enthusiasts will know, led to her rendition of 'O Mio Babbino Caro' which was followed by 'The Water Is Wide'.
Hayley began her final song of the set with an unaccompanied verse of 'Amazing Grace'. Here came an instrumental break which I think took everyone by surprise. With so many fine musicians in the orchestra, which included a harp, piano and organ, why would we need the sudden entrance of another? From the right-hand side of the stage came a lone piper in full Scottish regalia. He played a complete verse. The pipes fell silent as Hayley continued the song which built up to an enormous crescendo for the final verse by which time she was accompanied by the full orchestra, organ, massed choirs and the gloriously haunting bagpipes. For some reason, this was an experience that I found deeply moving.
Hayley left the stage to the choirs who gave us three more songs. We were then introduced to yet another choir but this time they were somewhat younger. The Lanishen Fach Primary School Choir comprised about 80 children between the ages of seven and eleven. I noticed that the girls outnumbered the boys by a ratio of approximately 5 to 1 but I guess the fellers are saving themselves for the time when they can join one or other of the fabulous Welsh male voice choirs of the future!
There was one whose sleeves were a little too long and several whose ties were noticeably too short. Inevitably there were what looked like twins in the front row and one young chap who had recently lost a tooth! And let's not forget the dear little girl with the pretty pink Alice band. Oh how it takes me back to those distant childhood days when I used to stand in the corner! But this line-up had two things in common; they all looked absolutely charming and they had the voices of angels. They sang songs from 'Oliver', 'Starlight Express', 'Whistle Down The Wind' and more. Truly delightful.
More from the massed choirs led up to the interval. Phew, that was one heck of a concert already.
As Dave and I left our seats, I apologised to the four people who had to stand up to allow us past, just as I had done when we entered causing them to do likewise. Twenty minutes later, they were on their feet again as we returned to our seats once more. "I'm sorry to be such a nuicance," I said, "but we're English, you see?".
"So are we", replied the lady in J26.
"Well, you'll understand then", I said, but I don't think she did!
The massed choirs opened the second half with the hymn from 'Finlandia', followed by two other works before Hayley took the stage once more. Her second set comprised 'Pokarekare Ana', and 'Scarborough Fair' which she described as one of her favourites and commented that she doesn't know why she didn't record it long ago! Then came 'In Trutina' and 'Hine e Hine'. I have lost count of how many times I have heard her perform the two Maori songs but they still delight me just as much as they did the first time.
After three more songs from the choirs, each of their musical directors was presented with an award. Unfortunately these were neither described nor shown (clearly) to the audience but seemed to be an engraved dish in a blue presentation box.
The choirs then performed 'Nidaros' but, before their last offering, the children of the school choir returned to the stage… and so did Hayley!
I am not familiar with the song entitled 'As Long As I Have Music' but it was really beautiful. Hayley began it, and was gradually joined by all the other performers. Magnificent. Dave later accused me of being the first one to stand. Actually, that wasn't quite true as I noticed a small group of people in the back corner to my left do so. I quickly followed their example and, within a few seconds, there was a total and thoroughly deserved standing ovation. But it was not over yet.
Hayley now led everyone as we sang 'God Save The Queen' with which many concerts would have been concluded in days of yore. And, because we were in the beautiful principality, everyone then sang the Welsh National Anthem, 'Hen Wlad Fy Nhadau'. This was the song in which Hayley did not sing into the microphone. Nevertheless, her voice could still be heard above the combined vocals of the 500-strong massed choirs, the 80-strong childrens choir, the full orchestra and organ. So, anyone who has commented that she doesn't have the power, believe me, she does.
We had been advised…. Okay, Peter had been advised that we would be able to spend a few minutes with Hayley after the concert had ended. Unfortunately, we had not been told where! Some of you may realise that this is the same venue as Hayley and Holly gave their impromptu performance in the foyer in November 2004 and so we decided that to position ourselves in the same area would be as good a place as any.
We waited.
Nothing happened so we waited a bit more.
There was no way of knowing if Hayley was still in the building and I felt our prospects of seeing her would be greater if we adjourned to the street so that we could keep an eye on the Artists entrance. This we did. No sooner had I set foot on the pavement (sidewalk, if you will!), than I saw Hayley and Steve waiting for us! Steve said he was about to phone me! I must say, they both go to extraordinary lengths to enable us to spend a little time with them for which we are all forever grateful.
We spent about ten minutes chatting with them before Steve asked which way we had to go to where Dave had parked his car. Apparently, that was in completely the opposite direction to where they were going. And so, we took a detour!
Hayley, Steve, Dave, Peter and I walked about a mile to the hotel where they were staying. There, we said our goodbyes and Steve thanked me for escorting him home! Yeah, right!
Well, that's about it. My thanks to Dave for ensuring my safe arrival home at 5 o'clock this morning. I have been online ever since and it is now approaching midday. Somehow, I seem to have forgotten to get any sleep but was it worth it?
Cyngwystl chwithau! That's Welsh but it's a lot easier in English. It means 'You bet!" ;)
Roger