Hayley's Bikes For Ghana
Hayley races on bikes, Ghana

Buy a bike so a girl in Ghana can attend school!
Donate $40 now, buy a bike and help provide an education for a Ghanian girl. $60 will buy a tricycle for a disabled child.

In spite of the Ghanian Government commitment to education for girls, there are still wide gender and geographical disparities in education in terms of access, quality and achievements. At primary school level, research shows that 22% of girls are not attending school and at the junior school level 40% of girls are not accessing school. In the northern districts of Ghana, girls exclusion is as high as 40% in the primary sector and 67% at junior school.
To donate online, click here or post your donation to UNICEF NZ, PO Box 10-978, Wellington and mark it for Ghana Education Project.
Reasons for Disparities:

Unavailability of schools within easy reach of pupils - UNICEF mapping reports show many girls have to walk as much as 5 kms to school in all kinds of weather.

A mismatch between school time-tables and girls' household duties - girls have home duties to complete that boys don't have before they can leave for school which makes them get to school late, tired and unable to concentrate. Consequently many girls cannot cope and drop out.

Parental inability to cater to girls needs, free them from chores and encourage school attendance.

Risks of accidents and sexual abuses for girls who walk, meaning their parents become reluctant to send them to school.


Poor quality education and costs a strain on families.

What UNICEF and the Government are doing:
Provision of bicycles to help girls commute the long distances

Provision of tricycles to help disabled children

Scholarships to help needy girls

Provision of food subsidies and rations

Mobilising community support for girls education

Construction of water and sanitation facilities

Incentives to female teachers serving in rural and deprived areas

Since 2001, UNICEF has supplied over 5,000 bicycles and a study has shown that as a result school enrolment is up, attendance levels are higher, academic performance is better and drop out rates have reduced.

Another 5,000 bicycles and 1,000 tricycles (for disabled children) are needed urgently to accelerate girls participation in education.

These bikes and tricycles will be supplied to 6,000 girls in upper primary and junior secondary schools in the 40 most deprived districts where girls exclusion is as high as 67%.

UNICEF NZ and Hayley are working together to help these girls get to school and gain better life opportunities. Join us in making a difference for girls education in Ghana by supporting this project to get girls into school and keep them there. When you donate, you will become part of our mailing list and receive regular updates on the numbers of able and disabled children we are helping with their schooling.
Project Update

The impact of UNICEF's bicycle project has a good precedent:

More than 95 percent of the beneficiary girls make higher daily school attendance

The majority of the beneficiary girls (70%) acheive higher academic performance than before;

Bicycles reduce the burden of household duties, enabling some students to study even at home.

Parents are encouraged to send their daughters to school due to more available time for children to help with household duties and their higher academic performanc
An excerpt from a letter by Rukaya who has received a bike:
"...(Before,) I found life very unbearable as I always got to school very late. Attempt by me to satisfy either my parent or my school authorities yielded as it was always impossible on my part...(However now with the bicycle) Yes, I am able to get up early, discharge my house duties in the morning and report to school very early. I also get home very early from school and discharge my house duties without any problem and do my home assignment. This is because I no longer walk and become tired."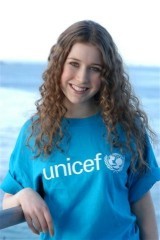 Hayley Westenra, UNICEF NZ National Ambassador
(C)UNICEF
Related Links